Tear-Free Holiday Travel
Traveling by car or plane can pose several challenges for new parents with a baby. During the holidays, these challenges can be amplified by busy airports and jammed freeways. Survive holiday travel with your little one with these tips.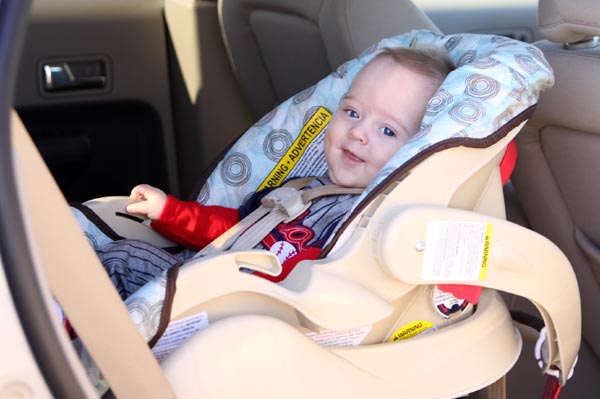 Over pack
Pack extra wipes, burp clothes, diapers, an extra change of clothes for baby and you (just in case of a massive blow-out or if baby gets motion sickness… all over you, and bottles and snacks. If baby relies on a pacifier or a special blankie, make sure it is close at hand at all times. You'd rather have too much than not enough in this case.
Take your time
Plan ahead and allow plenty of time to get through airport security with baby or leave an hour or two earlier than you need to for road travel, knowing you'll need to stop for multiple diaper changes, feedings and unexpected fussy times. Try not to rush through or stress during travel as baby could pick up on your anxiety and become unsettled himself.
Bring new toys
Entertain baby with some exciting new rattles, textured toys or soft, chewable teethers. Bring along some books to read to baby on the plane of fun CDs loaded with children's tunes or holiday songs.
Plan travel during nap times
If you can, coordinate your travel times to when baby is likely to fall asleep in the car or even to the motion of the plane. Many young babies can be nursed down or fall asleep on the bottle during travel, making for peaceful and enjoyable travel for all.
Avoid traveling during baby's cranky times
If your baby is unlikely to fall asleep in transit, try to plan your travels around times when baby is happiest (like right after a meal or a nap). There is nothing quite so jarring as listening to a baby cry as you drive and not being able to do anything about it. Worse yet, you'll be sure to get those dagger eyes from everyone on the plane if you're the one with the crying infant on a cross-country flight.
More on travel with baby
What a trip! Air travel with an infant
Packing checklist when traveling with baby
Traveling with a new baby