Hotel And Motel Crib Safety
The holiday season is upon us, and if you plan on staying in a hotel or motel, you'll want to make sure the crib your baby uses is totally safe.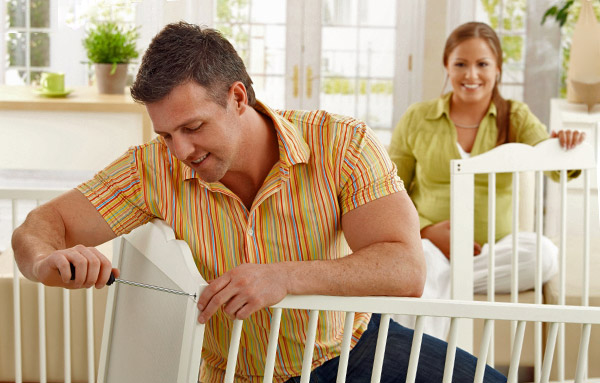 Many hotels and motels provide cribs for babies, sometimes free, sometimes at a cost. And by December 28th, they will be required to ensure that the cribs they provide are up to current safety standards, such as no drop-side cribs -- among other areas of concern, such as more rigorous safety testing. Before that date, however, Keeping Babies Safe says there are a few ways you can take matters into your own hands and make sure that your child's hotel crib is safe enough for her to sleep in.
Call ahead
Phone your accommodations before you head that way to find out the brand and model of the cribs they give to their guests. You should make sure that the crib hasn't been recalled before you head out. You should also ask if they provide crib sheets for the crib -- some establishments only provide adult sheets, which is a no-no. You might want to pick up an inexpensive crib sheet to take with you just in case.
Bed bugs
Bed bugs are a favorite critter of nobody, and you definitely don't want them munching on your baby's delicate skin. They are an unfortunate scourge of some hotels, but you can do a cursory check -- which, while disgusting, is much better than finding out too late that the crib is infested with bed bugs. You'll want to check for rust-colored blood stains on the fitted sheets in the baby's crib, as well as on your own beds. If you find any, request to be moved to a different part of the hotel.
Crib setup
Bare is best -- keep pillows and fluffy blankets out of the crib. Bumper pads are also a thing of the past so if the crib rolls to you with some attached, remove them. Keep the crib away from mini blinds (they are a strangulation hazard) as well as any other dangers that baby can reach or pull down.
Play yard
Some hotels use play yards as cribs. Don't be tempted to add any additional padding because it can present a suffocation hazard.
More on travel safety
Safe airplane travel with babies and toddlers
Top 10 baby travel tips
Holiday travel with baby - baby proofing a new place