Fun Family T-Day Traditions
When you have a new baby in your family, it's fun to start new traditions to commemorate the season. Before Thanksgiving comes and goes, check out these family tradition ideas to start with baby.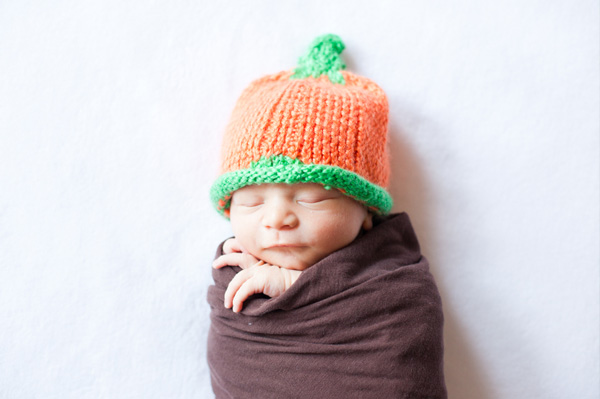 Turkey crafts
Even a newborn can participate in Thanksgiving crafts… with a little help! One of the cutest and easiest ways to make a cute seasonal craft that you can redo each year and cherish forever is a handprint turkey. Simply "paint" baby's palm with brown finger paint and his fingers with red and yellow paints then press his hand onto a piece of orange construction paper. Draw in turkey's feet, face and wattle. Don't forget to write the date on the masterpiece.
Introduce baby to traditional Thanksgiving foods
A Thanksgiving feast is not complete without sweet potatoes, green beans and corn… all foods that you can introduce to baby, in puree form or otherwise. As you plan your Turkey Day meal, consider how you can include baby in the feast.
Make a baby-friendly pumpkin dessert
What Thanksgiving meal is complete without a pumpkin-themed dessert? From pumpkin pie to pumpkin soufflé, pumpkin is the main event when it comes to your post-turkey treat. Search baby-friendly desserts that are safe for baby. If baby is really young, simply introduce him to pumpkin puree.
Limit overwhelming big family get-togethers
Instead of spending the entire day inundated by a huge family gathering, consider spending just a small amount of time with extended family. Then hunker down at home with baby for an intimate Thanksgiving meal with just your immediate family.
Get ready for Christmas
Take the time at Thanksgiving to snap a great snapshot of your little one for your upcoming holiday card… after all, December is just around the corner! Put up your tree and decorate your home for the next holiday.
Give thanks
Even if baby is too young to understand, it's important to start a tradition of giving thanks and giving back on Thanksgiving. Volunteer to serve food at a soup kitchen or donate old clothes to a homeless shelter. Make this a yearly effort and baby will learn the importance of giving back.
More on baby and the holidays
Picture perfect baby Christmas photo outfits

Tips for baby's first Thanksgiving meal
5 Thanksgiving baby food recipes