Suffocation And Entrapment Hazards
Do you have a PeaPod Travel Tent? If so, it may be affected by this recall.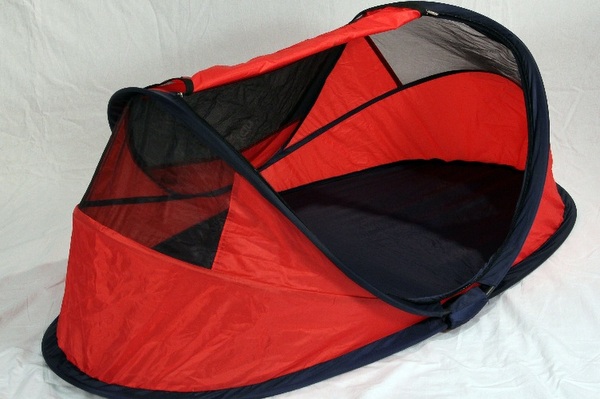 KidCo has voluntarily issued a recall on 220,000 PeaPod and PeaPod Plus Travel Beds in cooperation with the U.S. Consumer Product Safety Commission (CPSC).
Product Description: This recall involves approximately 220,000 PeaPod and PeaPod Plus Travel Beds that were sold in the US and in Canada. These travel tents were meant to be used from birth to 3+, depending on the model. They feature a zippered opening and an inflatable air mattress that fits into a zippered pocket under the floor of the tent. The tent folds up into a round, compact shape for travel and storage.
The following are the model numbers and color names affected by the recall:
P100    Teal
P101    Red
P102    Lime
P103    Periwinkle
P104    Ocean
P201    Princess/Red
P202    Camouflage
P203    Quick Silver
P204    Sagebrush
P205    Cardinal
P900CS Green
Where/when it was sold: These recalled travel beds were sold online at Amazon.com and at independent juvenile specialty stores nationwide from January 2005 through the present for between $70 and $100.
Reason for recall: The CPSC has received the report of one death -- a 5-month-old baby was found with his face pressed against the side wall of the tent, although the cause of death hasn't been determined. There has also been nine reports in the US and Canada of children being in physical distress or having been entrapped while using the product.
What you need to do: Consumers should stop using these travel tents immediately and contact KidCo for a free repair kit.
Company information: Contact KidCo toll-free at (855) 847-8600 between 8:30 a.m. and 5:00 p.m. CT Monday through Friday or visit their website at www.kidco.com to receive a free repair kit.
More recalls
Recall: Britax car seats
Recall: Trend Lab Children's upholstered toddler chairs
Recall: Graco Classic Wood Highchairs
Image credit: USCPSC