New Prenatal
Exercise DVD
Tired of having little to no energy, or not being able to motivate yourself for exercise during your pregnancy? Try a new routine to get you going!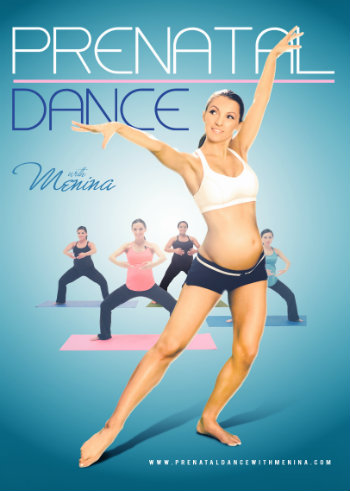 Celebrity choreographer Menina Fortunato has turned her dancing skills into a new DVD for pregnant moms -- Prenatal Dance -- set for a November 23rd release and available exclusively at Amazon.com. The DVD features a comprehensive full body dance workout that includes a complete warm-up with toning exercises and stretches, focusing on arms, core, hips, butt, and legs.
Get up and moving
Menina developed Prenatal Dance around halfway through her pregnancy. She was eager to keep up an exercise routine but the available prenatal exercise DVDs she tried didn't inspire, motivate or challenge her. She feels that the routines she developed for Prenatal Dance helped her stay fit during her pregnancy as well as have an easy home water birth.
"I am so excited to finally release Prenatal Dance and show every pregnant mother how to stay fit, be healthy, feel confident and have fun through dance," Menina shared. "This new project has been my baby in more ways than one and I can't wait to get it out!"
Exercise during pregnancy
As a pregnant mom, it can be hard to simply get up and moving in the morning, and exercise can seem like a futile dream. However, exercise can benefit you in many ways during pregnancy -- it can boost your mood, increase your stamina and improve your strength and flexibility. These benefits in turn can help you have a better birth as well.
If you haven't already been exercising, be sure to consult your care practitioner before starting this -- or any -- exercise routine. Fortunately, most women can safely exercise during pregnancy, and Prenatal Dance is an excellent way to get started. The routines are fun and will keep you interested instead of bored or overwhelmed.
More on exercise during pregnancy
Fatigue and exercise
Pregnancy, exercise and morning sickness
Pregnancy exercise: How much is too much?