Love Your Pregnancy Curves
Aside from the total joy and excitement of becoming pregnant, it's tough for many women to gain such a large amount of weight (usually between 25 and 35 pounds, but some women gain more) during pregnancy. Don't let pregnancy weight gain get you down.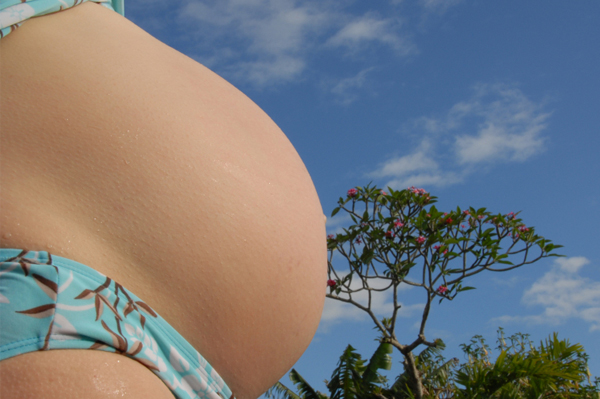 Talk to your doctor
When you become pregnant, speak with your doctor about a healthy amount of weight for you to gain during your pregnancy. Remember that all women are different and have unique circumstances that can determine how much weight they should safely gain during pregnancy.
Ask your doctor about the healthy way to put on the weight and foods you should avoid such as fried foods and those with empty calories.
Dress for your new shape
At some point you may feel better surrendering the skinny jeans and tight-fitting tops for a new look that accentuates and complements your pregnancy curves. Remember that comfort is key during pregnancy, but that doesn't mean you can't be fashionable!
Check out some cute clothes at maternity stores or online shops and ask for advice from mom friends about how to dress your bump for style and comfort. And rock that bump with pride!
Continue, but modify, your exercise routine
It's been said a million times… but here it comes again. Working out can do such wonders for not only your body but also your mental state.
If your doctor approves, continue your pre-pregnancy work out routine or modify it during your pregnancy. Staying fit regardless of your pregnancy weight gain should take the focus off the rising number on the scale and more on the importance of being healthy for your little bundle on the way.
Make a plan to drop the weight, post-baby
Pregnancy is temporary. And so is your pregnancy weight gain, especially if you are committed to dropping it safely once baby arrives. So try not to obsess about gaining weight – it's just part of the process of carrying your precious baby.
If it will make you feel better, make plans for how you'll drop the weight once baby arrives. Research safe diet plans, keeping in mind that nursing moms need extra calories to keep baby nourished, and speak to your doctor about when it's okay to start exercise again once your baby arrives.
More on pregnancy weight gain
Slowing weight gain during pregnancy

What kind of exercise is okay during pregnancy?
Don't obsess about pregnancy weight gain