Choking Hazard
Britax, the makers of many popular models of car seats, has issued a voluntary recall on some of its products due to a choking hazard.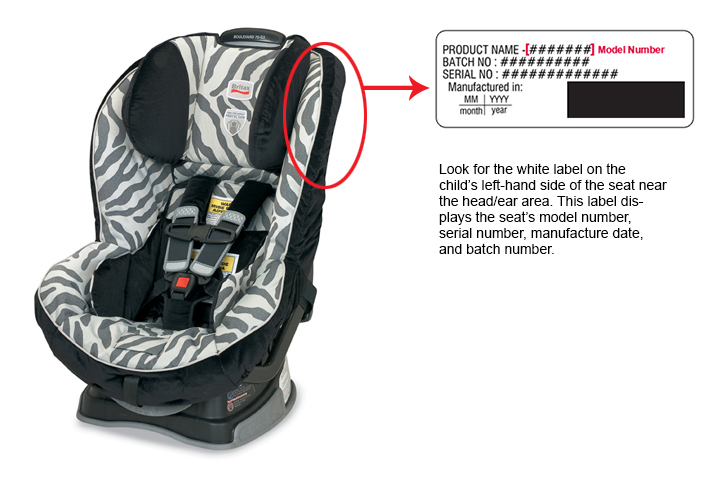 Nearly 60,000 Britax car seats that were sold in the United States and Canada have been recalled by Britax after they filed a report with the National Highway Traffic Safety Commission.
Product Description: The three Britax car seat models involved are select Boulevard 70 G3, Advocate 70 G3, and Pavilion 70 G3 convertible car seats that were manufactured between June 1, 2012 and August 31, 2012.
The following model numbers are affected:
In the US: E9LJ91A, E9LJ91M, E9LJ91S, E9LJ92E, E9LJ93P, E9LJ93S, E9LK91A, E9LK31A, E9LK31Q, E9LK32D, E9LK32Z, E9LK33Q, E9LL11A, E9LL11Q, E9LL12D, E9LL12Z, E9LG81A, E9LG83N, E9LG83P, E9LG83X, E9LG83Y, E9LL21A, E9LL23P, E9LL23Y
In Canada: E9LK11A, E9LK11M, E9LK11S, E9LK13P, E9LK13S, E9LK41A, E9LK41Q, E9LK42D, E9LK42Z, E9LK43Q E9LG91A, E9LG93N, E9LG93P, E9LG93X, E9LG93Y
Where/when it was sold: These car seats were sold in various online and retail stores between June 1, 2012 and August 31, 2012.
Reason for recall: These select car seats feature the use of HUGS pads (Harness Ultra-Guard System) that are attached to the seat shell to ensure proper positioning and maximize comfort. The HUGS pads that were used in these particular seats are soft and pliable and three babies were reported to have bitten off pieces and gagged on them.
What you need to do: Remove the HUGS pads on the affected seat and contact Britax for replacement pads that are made of a firmer, denser material that children can't bite off. You can use your seat safely without the HUGS pads but you are encouraged to verify that the tension is correct.
Company information: Contact the Britax information line, toll free at 1-888-427-4829 between 8:30 am - 4:45 pm (EST) Monday – Thursday, between 8:30 am - 3:45 pm (EST) on Friday or visit www.britaxusa.com/registration (USA) or www.britax.ca/registration (Canada).
More recalls
Recall: Trend Lab Children's upholstered toddler chairs
Recall: Graco Classic Wood Highchairs
Recall: Summer Baby Bathers
Image credit: Britax