Sprout Foods Makes It Easy
If your little one is new to solids, this upcoming Thanksgiving may be her first holiday meal. Sprout Foods organic baby food makes it easy and delicious.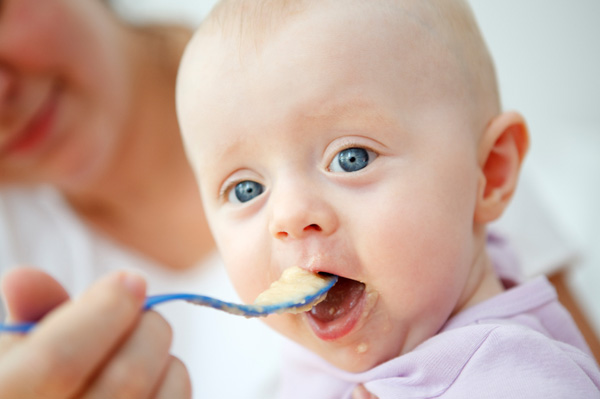 Thanksgiving is a time of family togetherness, warmth, and of course, delicious and comforting food. Your baby may be too young to gnaw on some turkey and stuffing -- you not only need to consider the fact that she may not be developmentally ready to chew and swallow the food, but it could be risky allergy-wise if your family has a history of food allergies. However, if she has already started solid foods, there is another option from Sprout Foods.
Sprout Foods organic baby food
Sprout Foods baby food is organic, nutritious and delicious. They are launching new packaging, which features a choke-free, twist off cap on their pouches and a dispensing spout that encourages self feeding in older children, while being easy for moms of babies to use.
The company uses a unique cooking technique that doesn't require the use of lemon juice for stabilization -- an ingredient that doctors recommend babies stay away from until 12 months of age. And the flavor blend recipes focus more on vegetables, instead of vegetables that are always sweetened with fruit, so children develop a taste for them at a very young age.
The recipes feature organic fruits, vegetables, grains and meats -- and they would work very well integrated into your family's Thanksgiving dinner. Whether your baby is just experimenting with solids or a seasoned pro, add a few pouches of Sprout Foods to your grocery cart for your littlest family member.
"Our mission is to serve nourishing whole foods that are so delicious that babies and toddlers acquire a lifelong taste for them," says Ron Davis, CEO of Sprout Foods. "Recipes such as Roasted Apples & Blueberries, Carrot, Sweet Potato & Brown Rice, or Vegetable & Potato Chowder with Chicken are all meals we offer. They are organic with no added sugar, and are very nutritious."
More on baby food
When baby doesn't like solid food
When can my baby eat solid food?
When should you introduce baby food?