Digital Memories
Looking for an easy way to tie your baby's digital memories together? Irrive.com connects all of your social media channels into one elegant online scrapbook.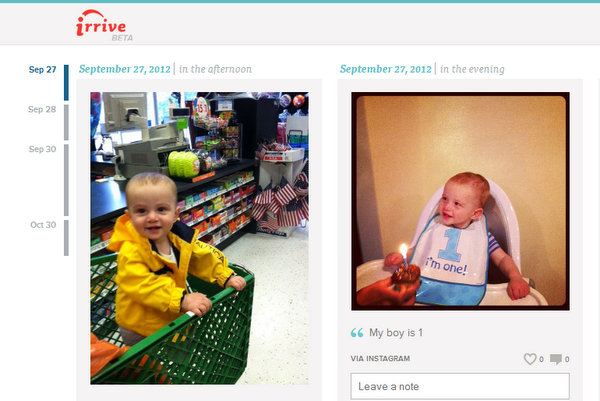 Once you got a positive pregnancy test (or a few months after), you likely started tweeting, Facebooking and Instagramming details about your little one, through birth and beyond. Irrive.com is a new resource for parents -- it seamlessly gathers your posts from your favorite social media sharing sites and integrates them into one fabulous digital scrapbook.
Irrive has arrived
Modern parents, with the access smartphones and WiFi provides, can post, tweet and take pictures from practically anywhere. Irrive lets you easily -- and automatically -- add it all together in one neat and organized space.
"People love to share life's great moments through social media, but because social platforms are feed-based, content either gets isolated or stuck between posts of no relevance," said Steven Cohn, CEO and Founder of Irrive. "At Irrive, we believe that people love to create and share a holistic view of their experiences. The challenge many people have is finding the time to organize their photos, posts and check-ins into a single album or blog. With Irrive, all of these memories are captured automatically and become a beautiful, visual record that can be easily shared."
Users of the site rave about how easy it is to set up, which is a must for any new parent.
More on technology and parenting
Twin photo shoot: Taking pictures of your multiples
How BabyFirst can help you sign with your baby
15 ways to green your pregnancy