Survey Results Reveal Information Gap
Has your mom (or mother-in-law) given you advice on how to take care of your baby? You're not alone. But a survey reveals, perhaps unsurprisingly, that grandparents don't always know current recommendations and safety practices.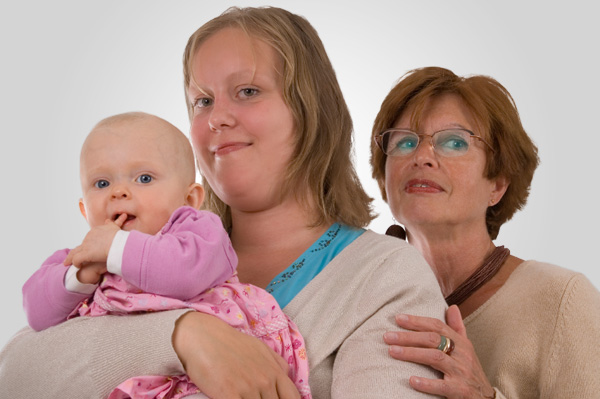 Once your pregnancy test came back positive, the grandparents-to-be may have started giving you advice on everything from morning sickness to the best way to have a baby. And it doesn't stop there -- advice can continue to flow on all parenting decisions … circumcision, breastfeeding, your diet, your sleeping arrangement, taking baby out, keeping baby in, when to start solid foods, what type of car seat to use -- and how long to keep him rear facing.
You're not alone
A 2010 survey of grandparents (most of which were their grandchild's primary caregiver) in Alabama illustrated that not all grandparents are hip on current safety guidelines or recommendations by organizations such as the American Academy of Pediatrics.
Some areas where grandma or grandpa doesn't always have the latest info:
Sleeping. The American Academy of Pediatrics says that babies are safest sleeping on their back and without crib bumpers, stuffed animals or blankets in their cribs. However, 33 percent of grandparents said baby is safest on his stomach, while 23 percent said side and 44 percent said back. And a whopping 49 percent of grandparents felt that crib bumpers, heavy blankets and stuffed animals were okay in a baby's crib.
Feeding. While most parents know that water isn't necessary for babies under 4 to 6 months (the AAP's current recommendation), 63 percent of grandparents thought that water at 2 weeks to 2 months would be just fine.
Walkers. Baby walkers used to be present in nearly every home when I was a baby, but you'd be hard pressed to even be able to find one to buy in a store. However, 74 percent of grandparents polled thought that walkers were a good way to help a baby develop her walking skills.
Tell us
What kind of advice have you gotten from your child's grandparent or your own grandparent? How did you handle it?
More on grandparents
Introducing the grandparents to your baby
Dealing with grandparent challenges
Grandparents and medication safety