Laceration And Strangulation Hazard
These adorable toddler chairs have been recalled due to laceration and strangulation hazards -- you'll want to see if you have Trend Lab Children's upholstered toddler chair in your home.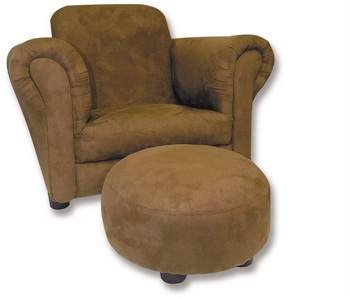 Trend Lab has voluntarily recalled their Children's upholstered toddler chairs because of a potential hazard due to the staples in the back working their way loose.
Product Description: This recall involves close to 17,000 children's upholstered toddler chairs from Trend Lab. The recalled styles are the Club style and the Mod style. The chairs are 24" wide by 18" tall by 17" deep.
They came in several different fabric choices. The Club style came in 1) suede in brown, pink, avocado green, red and turquoise blue; 2) velour in blue, green, pink and red; and 3) print fabric in chocolate dot on pink or blue. The Mod style chairs came in dark pink or zebra printed velour in chocolate on blue or pink; or on printed fabric of chocolate stripes on pink or blue.
A Trend Lab label appears on the bottom of the seats and has a date code -- TL1007C through TL0812C. They can be read as TL followed by the two digit month and two digit year, then C.
These were sold with matching ottomans -- which are not part of the recall.
Where/when it was sold: These recalled chairs were sold online at trend-lab.com, Amazon.com, BabiesRUs.com, Target.com, Walmart.com and Seussland.com, as well as in Buy Buy Baby and other specialty stores from November 2007 to August 2012 for about $100 to $140.
Reason for recall: The CPSC and Trend Lab, LLC have voluntarily recalled these chairs because the staples in the binding of the back of the chair can come loose, which poses a choking and laceration hazard. There have been no injuries reported.
What you need to do: Consumers should immediately take the chair away from children and inspect the binding. Contact the firm for a repair kit with instructions.
Company information: Contact Trend Lab toll-free at (866) 814-7978 between 8:00 a.m. and 4:30 p.m. CT Monday through Friday, email Recall@trend-lab.com, or website www.trend-lab.com and link to Recall Information.
A couple more recalls
Dream On Me Bistro high chairs and Happy Swing II infant swings have been recalled due to strangulation hazards. You can contact Dream On Me toll-free at (877) 201-4317 between 9 a.m. and 5 p.m. ET Monday through Friday, or visit their website at www.dreamonme.com.
More recalls
Recall: Graco Classic Wood Highchairs
Recall: Summer Baby Bathers
Recall: Bumbo baby seats
Image credit: USCPSC