Baby'S Costume On A Budget
It's your baby's first Halloween! And while you may want to go all out, your budget might not allow for that. No problem. We've got fun ideas to save on Baby's first Halloween costume.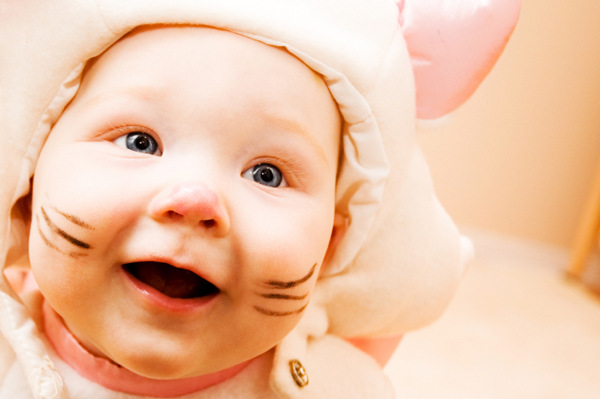 Don't get carried away
We're certain you'll have to fight the urge to buy every "Mommy's little pumpkin" or "Mommy's little monster" onesie you see. But remember, Halloween is really only one day a year. So those cute onesies will be passé in just a few weeks. Save up for one really cute one, then get the most use out of it that you can before November 1st comes around. Also search, your mailers, newspaper and online for coupons for Halloween clothes and costumes.
Scour the discount stores
Stores like Ross, TJ Maxx and Marshall's have a great selection of discounted Halloween costumes (not to mention toys, socks and decorations). You can probably find the same costumes as you can at the party and costume stores for a fraction of the price. For even deeper discounts check out your local Goodwill or Savers stores which also stock up on great gently used and sometimes new costumes and decorations.
DIY costume
If you've got a crafty hand, make baby a one-of-a-kind costume of your very own. Check a fabric store for patterns and search Pinterest for fun ideas, too. Remember that little babies don't need much to transform them into a cute pea pod, a pumpkin or a strawberry. Think simple and comfortable for baby.
Wait until the last minute
Moms, we hardly ever suggest you procrastinate on anything when it comes to your little one. But if you wait until the last minute to purchase your baby's Halloween costume, you just might luck out with some last-minute sales. Keep in mind the stock probably won't be as complete as it would have been earlier in the month, however.
Stock up for next year
After Oct. 31, everything Halloween-related will go on super-sale. So stock up on great costumes, décor and more for next year!
More Halloween fun
DIY Halloween costume ideas for babies and toddlers
Halloween costume ideas for babies and toddlers

Baby's first autumn