Save On Shoes Until Baby Can Walk
Buying tiny baby shoes can turn into a full-blown addiction (I speak from experience here). But save your cash until baby is walking.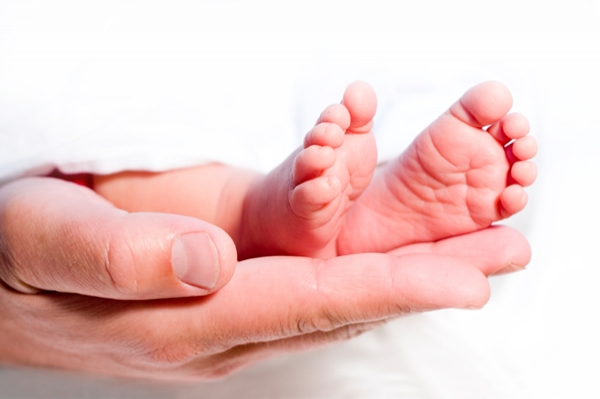 Barefoot is best
Infants' feet are still developing in the first stages of their life, so shoes are not really necessary. In fact, certain structured shoes can cause baby discomfort and even hinder correct growth and development of his feet.
Most pediatricians will advise you to leave baby's feet barefoot most of the time. When you head out of the house in cold temperatures, cover babies tootsies with soft thick socks to keep him warm. If baby is still very young, wrap his feet and body in a warm breathable blanket when you go outside as well. It is important to keep baby's extremities like feet and hands, as well as his head, covered and protected from the season's harsh elements.
When baby starts to walk
When baby begins to stand independently and shows signs she'll soon be walking, you may be tempted to break out the new shoes. However, doctors still advice parents to keep baby barefoot as she learns to walk.
Walking without shoes allows babies' bare feet to give them the proprioception sensory feedback that will help them grasp the concepts of balance, stability and support.
Baby should only be in shoes if he is going to be heading out on rough and rocky terrain that could hurt his sensitive soles. Otherwise, let baby go barefoot as he learns to walk.
Soft soled shoes
When you do choose a shoe for baby, select a very soft soled shoe (almost like a moccasin) from brands like Pediped, Robeez or Stride Rite.
Contain your urge to put shoes on baby unnecessarily. Remember that you will have plenty of time to dress baby in adorable shoes once he completely grasps his walking skills. Until then, have fun covering baby's tootsies in darling Mary Jane or "skater shoes" style socks. So fun!
More on baby shoes
Shoe fetish: How to choose safe shoes for your baby
When to buy your baby shoes

Umi three stage baby shoes