Wait, If You Can
Home pregnancy tests are more sensitive than ever, but you still might want to wait as long as you can to take one.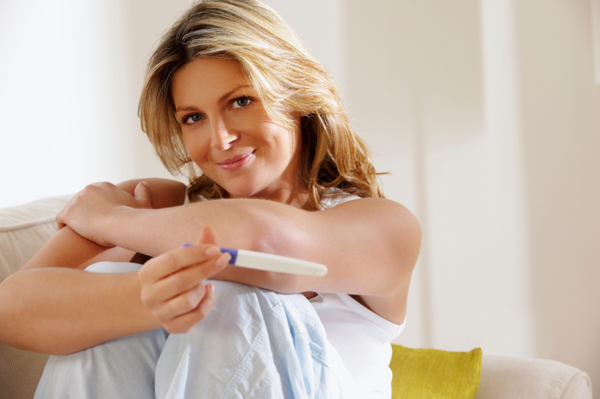 Waiting to take a pregnancy test -- whether you're actively trying to conceive or not -- can be an agonizing exercise in patience. With ads and even television commercials telling you that you can "test five days sooner!" you may be thinking, "What do I have to lose?"
False negatives
While many pregnancies can be picked up early -- and I do mean five to seven days before you have even missed a period -- generally the earlier you test, the more chances you will run into a false negative. This means that you are indeed pregnant but the amount of hCG (the hormone secreted during pregnancy) in your urine isn't high enough to be detected on your test.
Faint lines
Another risk of testing early is seeing a faint line. Or is it really there? Here, look at it in the direct sunlight. Or under this lamp. Or in a mirror. Can you pick it up on a camera? Can you "tweak" it on your computer? The "can you see it test" is maddening, and yes, I know this from experience.
So, save your money
Sure, you can get really cheap pregnancy tests -- a dollar can get you one these days, or you can buy them in bulk (yes, bulk pregnancy tests!) online, but if you feel better using a better brand you may be looking at $7 and up per test. This isn't a lot, but it can add up.
The day your period is due
Many, if not most, women ovulate at around cycle day 14 -- midway through the month. By the time your period is due, you are likely 13 or 14 days past ovulation, which is the perfect time to take a pregnancy test and get a reliable result. If you track your cycle with temperature charting or by using ovulation predictor tests you will have a better idea of when to test because you'll be able to tell how far past ovulation you are.
After your period is due
I remember with my first three children, when I didn't know as much as I do not about ovulation, I waited until after my period was due to even take my first pregnancy test. There was no questionable result, no squinting -- it was just there.
So, waiting is the best idea, but if you don't I really cannot blame you. With my last pregnancy, I managed to wait until 12 days past ovulation (I was charting my temperatures) and it was a nice clear line. But the months that I was TTC prior to this? Lots of wasted money on pregnancy tests. I would have preferred to spend that on baby things!
More on pregnancy tests
Days in waiting: The wait to take a pregnancy test
Pregnancy tests: The mystery of evaporation lines -- explained!
How pregnancy tests work