Catch A Minute Here And There
Making "me" time as a new mom can seem impossible, but there are ways to sneak in moments that are still all about you as you go about your day (or night).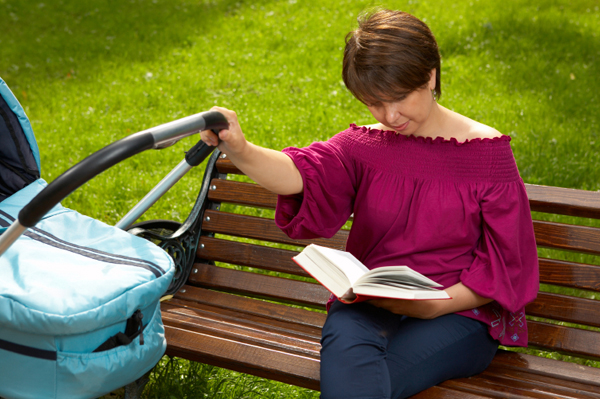 "Me" time while nursing
One of the nicest things about breastfeeding a baby is that after you've gotten comfortable nursing, you can then start to be the ultimate mom -- a multitasker. I loved to be able to pick up a book, catch a show or hop on the internet while my baby was nursing away. And if you don't feel like doing anything else, it's an excellent time to sit back and do some quiet reflection.
Shower time
Long showers and baths are a thing of the past, right? Well, even though you may be in more of a hurry (especially if your husband is pacing the hallway worriedly with a wailing baby), be sure you squeeze in as much enjoyment out of your shower as possible. Use your favorite shampoos and soaps -- a clean mom goes a long way in restoring your mood and clearing your mind.
Going outdoors
After you've sufficiently healed from childbirth, your care provider will likely give you the go-ahead to get physically active again. And there is no need to get a sitter --  you can take your baby along with you. Put her in a wrap and go around the block -- or shopping at Target. Your movement will lull her to sleep and you can enjoy getting some exercising (or shopping) done.
Hand your baby off
Every now and then, let someone else hold your baby. It will give your partner, your older children or other family members a chance to bond with your little one and will give you a chance to get dressed, put on some makeup or simply sit around and relax.
More on new moms
11 Ways to beat new mom fatigue
Tips for coping with new mom isolation
Taking care of the new mom