Do You Have To Ditch Your Nail Routine During Pregnancy?
The thought of going nine full months without doing or having your nails and toes done can be a serious bummer for many women. But pregnancy doesn't mean sacrificing the state of your mani/pedis.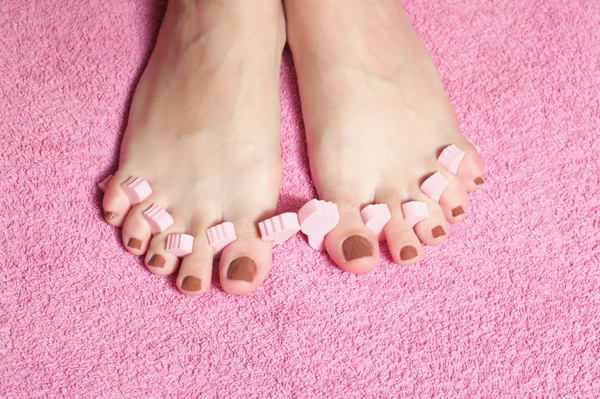 Manicure myth
There is no proof that there are any risks to baby while getting your nails done or doing your nails when you're pregnant. So go ahead and maintain your regularly scheduled mani/pedi appointment whether it's at your fave salon or in the comfort of your own home (eventually you may need to enlist the help of your man or a best friend to do your tootsies for you, however.) This isn't a bad thing!
Where the risks lie
Because there are chemicals in nail polish remover (acetone) and in nail polish itself (toluene), you should not be constantly exposed to them. If you experience headaches during your trip to the salon or while you're doing your nails, get to a ventilated area right away.
The fumes are not likely to cause harm to your baby unless the exposure is constant. If toxins infiltrate the blood stream, you could be at risk of miscarriage.
A chemical by any other name...
Remember that you should limit exposure to all chemicals during your pregnancy, not just those found at your local nail salon. Home cleaning products, paint and pesticides can also cause risk of miscarriage if you're overexposed to them.
Bottom line
As a pregnant woman, you've probably given up enough already (caffeine, alcohol and even sleep!), so we don't think you need to give up the occasional mani/pedi. But when you do splurge, ask to sit by a window or an open door. If you are a DIY mani/pedi girl, sit on the porch as you pamper yourself to ensure you're not getting inundated with the toxic fumes.
If you have additional concerns about the safety of getting your nails done or using nail polish and nail polish remover, talk to your doctor before scheduling your nail appointment.
More on pregnancy safety
Are household cleaners safe to use during pregnancy?

More research supports safety of exercise during pregnancy
Swimming pool safety for pregnant women