Hey, Boss! Guess What?
Announcing your pregnancy to most everyone is a total joy. However, your boss may worry that your impending motherhood means you'll be quitting.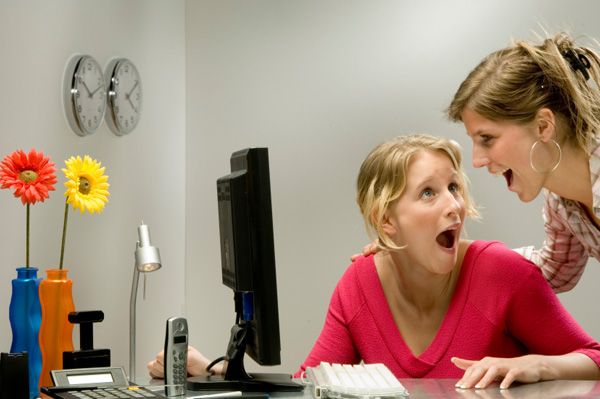 Tell her before she finds out
Make sure that your boss is the first person in the office that knows about your pregnancy. If you do decide to tell a close co-worker first, make sure she can keep the information confidential until you've had the opportunity to have a sit-down with the head honcho.
You should also tell her when you feel ready (after the first trimester) but before you are showing to the point that she can guess the news herself (a la Knocked Up!). She may feel disappointed or betrayed if she figures it out before you tell her.
Tell him in private
Ask for a meeting with the big cheese to inform him of your big news. If you work for a large corporate office, the company likely has a set of guidelines set for pregnancies and maternity leave. However, if you work for a small company, you may need to be the advocate for your own maternity leave.
You don't have to discuss it all during your first meeting. Just letting your boss know is the first step. You may be tempted to assure him that you will indeed be returning to work, but don't feel obligated to say anything yet. Your feelings may change by the time baby arrives and you don't want to commit to anything you can't fulfill.
Reasssure her
If you are 100 percent sure you are going to be returning to your job, make sure you let your boss know. She may be thinking in the back of your mind that she might lose you or have to replace you.
Don't leave him hanging
On the other hand, if you are 100 percent certain that you are going to be leaving your job once baby arrives, give your boss ample time to find another employee as amazing as you (perhaps before you leave so you can help train the newbie).
More on career, pregnancy and motherhood
Your new job and discovering you're pregnant
Should you discuss your pregnancy at a job interview?
Get a grip on going back to work