It May Be Easier Than You Think
Are you a new breastfeeding mom? Nursing in front of other people may be something you're a little anxious about. These tips will help you relax and be more comfortable nursing around other people.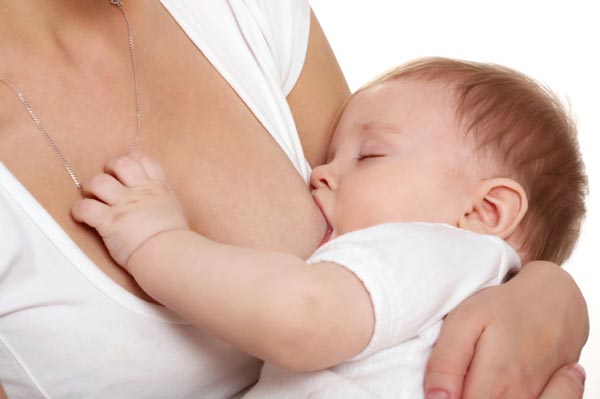 Breastfeeding is what you want to do, but you may feel a little awkward nursing around others, especially the first few times. Here are a few tips to keep in mind whether you're at the mall, your in-laws or in your own home with company over.
Establish nursing first
Make sure that your latch is good and that your baby nestles down at your breast with ease and comfort. The first week or two, when you're still recovering from childbirth, is a time of learning how to breastfeed and really getting to know your baby. If you've got it down, nursing in front of others will be easier for you.
Practice makes perfect
Make sure you're comfortable nursing at home, alone or with your family. Use a mirror to see just how little shows when you're breastfeeding your little one. Practice around your husband and older kids. It may be less of a big deal than you think.
Use a blanket
Really, the easiest way to discreetly nurse is to use a cover. A large nursing cover works well, but it also advertises that you're breastfeeding, and it makes it so much more obvious. When my babies were small, I'd snuggle them into a blanket and sort of tent it around their face -- generally during latching on, and latching off, when a stray nipple might be visible. When you're actively nursing your baby you really can't see anything.
Wear a nursing tank
Nursing tanks are lifesavers. This may sound odd, but I worried more about my baby gut and sides hanging out and being viewed by passers-by than the possibility of extra boob showing. A nursing tank is perfect for this purpose. You wear one under your favorite shirt and it keeps your belly, sides and back covered.
Make eye contact
If you make strong eye contact with your visitor while you're chatting, they're less apt to wonder or even notice what you're doing. Many times, folks haven't even realized I was nursing a baby -- even without a cover!
More on breastfeeding
Ten breastfeeding myths you should never fall for
Breastfeeding on-the-go
New AAP breastfeeding recommendations