Baby Wearing Rocks
Baby wearing is not a new thing, but it seems that more and more women today are using slings, carriers and wraps to tote baby. And why not?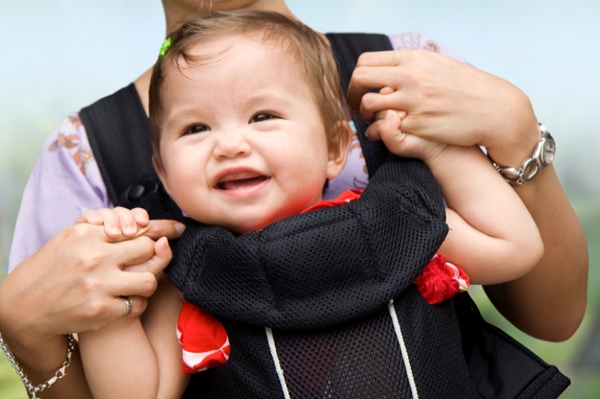 Convenience
The job of a mother is never done, but with a baby carrier, you can hold baby close and comfort him while checking off chores on your to-do list. Pop baby into a carrier while you vacuum, do the laundry and check emails from your remote office.
On the move
Need to grocery shop? Take a walk around the neighborhood or pick up your other kids from school? Securing baby into a carrier gives you the ability to be hands free while you pick
Bonding
The closeness and sometimes skin-to-skin contact that a wrap or baby carrier can provide is second to none. Keeping baby close so he can feel your heartbeat is a vital way to bond with baby. Suggest baby wearing for Dad, too. Carrier baby close to his body is a good way to Dad to help in the early stages of infancy when much of the parenting naturally falls to mom (such as nursing).
Nursing
In the newborn stages of baby's life, you may feel that all you are doing is nursing him off and on throughout the day. After all, think about how tiny your infant's tummy is – he can only take in so much at a time. But the non-stop nursing can also put a cramp in your day. Utilize a baby carrier to nurse on the move.
A baby carrier is also a fantastic way to ensure you can discreetly nurse baby in public.
Soothing baby
Baby is not only a great way to bond with baby, it also can help soothe baby during a fussy time or help calm him before nap or bedtime. I used to put baby in her carrier before nap time, then get all more household chores done as she napped right there in her carrier.
More on baby wearing and carriers
Pick the right baby carrier for you
Ergobaby's amazing baby carriers

Top 4 safe baby carrier options