When Baby Will Grasp It
Another baby milestone that occurs the first year is baby's development of the pincer grasp.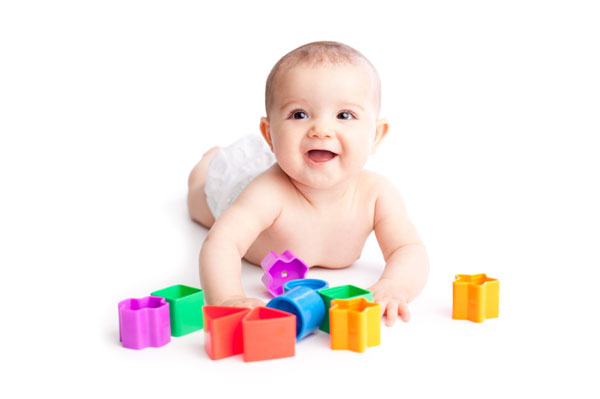 What is a pincer grasp?
The pincer grasp is simply the name for baby's ability to grab or pick up an object with his thumb and forefinger. This milestone will occur once baby has mastered "raking" objects.
What is raking?
Around six months of age, baby will begin to reach his hand out to bring an object to him by curling his fingers over the object, closing his fist and pulling it back toward him. In the next few months, he'll evolve from the raking movement to mastering the pincer grasp – an easier and more efficient way to grab the items he's reaching for.
The beauty of the pincer
When baby starts utilizing the pincer grasp, she can begin to feed herself (cut up pieces of fruit and vegetables, cereal and other small snacks) as well as reach and grab for things – like her favorite rattle. She'll also need the pincer grasp to button, zip and snap her clothes, tie her shoes and eventually hold a pencil or crayon.
Help baby develop his pincer
When baby begins to reach and grab for things, you can help him master his pincer skills with some fun toys and learning tools.
Puzzles/Activity boards – Anything with buttons, pulls, knobs, pieces and switches will help baby refine her pincer grasp.
Blocks and balls – Help baby learn to stack blocks as well as roll and hold various sized/shaped balls.
Graduated toys – Cups, bowls or other toys of graduating size can help baby work on her pincer grasp as well as sorting and sizing from big to little or little to big.
Safety for this stage
Once baby starts reaching and grasping, baby proofing hits a whole new level. Make sure certain things are out of baby's reach and make sure all electrical outlets are covered with a safety plug. Be sure to lock cabinets and drawers on baby's level (and above) as she may start using that pincer grasp to open drawers and pull cabinets knobs.
More on baby's milestones
Baby milestones: When should baby sit up? Crawl? Walk? Talk?
What to do if your baby is missing milestones
Baby movement milestones: What you can expect