As Close To The Breast As Possible
With so many bottles on the market, it's hard to know what will work best for your baby. To help, we're offering in-depth details on one of the newest baby bottles available. Read all about the Philips AVENT Natural Bottle.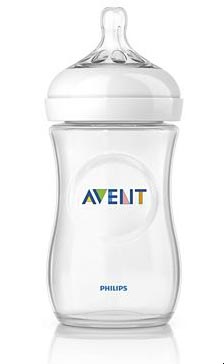 Before I became a mom through adoption, I researched baby bottles extensively. I easily decided on AVENT bottles. I registered for them and also purchased many myself. By the time my son came home, I had a lovely collection of what I considered the best bottles available.
While we weren't able to use them in the end because of some feeding issues from the orphanage, I passed those bottles onto a friend, who used them and loved them. And then she passed them onto a friend!
When I learned about the new Philips AVENT Natural Bottle, I thought I'd check one out. (No, I don't have a new baby!) However, I was curious to see whether the new design was even better than the last.
AVENT stayed true to the "inspired by nature" concept. The bottles allow your baby to feed as close to breast as possible, which makes it easier for both of you to combine bottle feeding and breastfeeding.
Highlights: 
Natural Latch-On: The wide shape that mimics the breast makes it easier for a baby to latch-on.
Unique Comfort Petals: The petals inside the bottle nipple make it softer and more flexible, but it won't collapse.
Advanced Anti-Colic System: The twin valve design allows air into the bottle, which keeps it out of your baby's tummy.
Additional Features
Available in glass and polypropylene (BPA free) 
The ergonomic shape makes it easy to hold in any direction
Interchangeable with most Philips AVENT feeding products
Fewer parts -- simple to use and easy to clean
You can purchase the Philips AVENT Natural Bottle at Babies R Us, Target and Amazong.com. You can also visit the company's website and Facebook page.