Serious Fall Risk
Do you have a Summer Infant Baby Bather in your home? They have been recalled, so if you do, read on to find out what models are affected.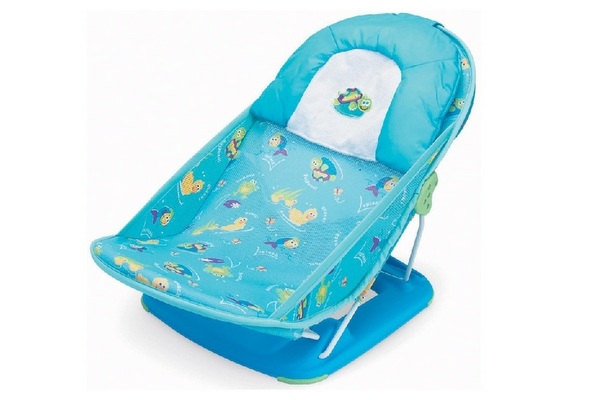 Over two million baby bather seats from Summer Infant -- the Mother's Touch/Deluxe -- have been recalled due to a serious fall hazard.
Product Description: This recall involves approximately 2 million baby bathers in the US and an additional 65,000 that were sold in Canada. These bathers have a square blue or pink plastic base and measure 12" by 13". The model numbers are located either on the side near the warning label or the front near the washing instructions. Some of the bathers have an additional model number and models that have an extra letter at the end are also included.
Model numbers included:
08020
08050
08054
08070
08401
08409
08404
08405
08650
08655
08659
08754
08940
08944
18004
18040
18049
18050
18120
18125
18129
18254
18360
18375
18379
18390
18394
18440
18445
18449
18470
18475
18479
38510
38515
38750
38755
Where/when it was sold: These recalled baby bathers were sold at mass merchandise stores nationwide and on the Web from September 2004 through November 2011 for between $15 and $30.
Reason for recall: The CPSC and Summer Infant has received seven reports of babies falling from the seats. These incidents happened when the seat was carried or lifted. The seat's folding wire frame can become disengaged from the side hinge. Four babies suffered skull fractures, and one required intensive care for bleeding in the brain.
What you need to do: Stop using the bathers immediately and contact Summer Infant for a repair kit that includes a locking strap and instructions.
Company information: You can contact Summer Infant at (800) 426-8627 between 8 a.m. and 5 p.m. ET Monday through Friday or visit their website at www.summerinfant.com/batherrepairkit.
More recalls
Recall: Bumbo baby seats
Recall: Chicco Polly High Chairs
Recall: Kolcraft Contours Option stroller
Image credit: USCPSC