Get Fit With Your Little One
Who says you can't work out when you have a baby in tow? Here are a few ideas for getting your blood pumping right along with your baby.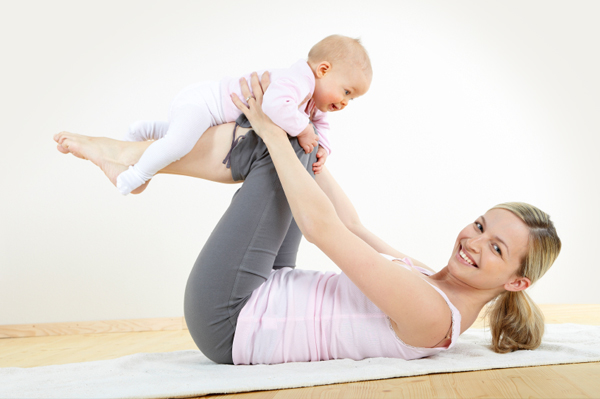 Many moms want to lose their baby weight, and eating right and exercise are an excellent way to do it -- but how can you exercise when you have a baby?
Take him along
If you have a good baby carrier or a stroller, take your baby with you. Go for a long outdoor walk or, in the event of rain or cold weather, take him with to you a mall. Wearing your baby will boost your workout too -- so don't be afraid to strap him into your Ergo or wrap him into your Moby while you get your heart rate up. And the good thing about babywearing is that your bodies will regulate heat together so you shouldn't have to worry about him getting too hot.
Use him as a partner
Prop your baby on your lower legs and use him as "weight" so you can do crunches (keep ahold of him the entire time, of course). Raise up and kiss him each time, and as he gets bigger, he'll likely smile and even cheer you on as you tighten those abs.
Let her spectate
If you have a good workout video, make use of your baby's bouncy seat and set her up right in front of you so she can watch. Moving-around Mom is exciting to watch, and she will likely enjoy watching your efforts -- and you won't feel self-conscious about your sweet baby watching you huff and puff.
You can get a good workout in even if you have a small baby if you include her in the fun. Even a brisk 20-minute walk a few times a week will improve your cardiac health as well as your metabolism. Go for it mama!
More on postpartum health
Getting motivated to lose postpartum pounds
Postpartum weight loss classes work
Effects of postpartum depression in both mothers and fathers