Carve Out Some Couple Time
Any new parents will tell you time instantly becomes scarce the second your new baby arrives. But amid the chaos of new parenthood, it's important for you and your man to stay connected as a couple. Check out these fun ways to reconnect with your man.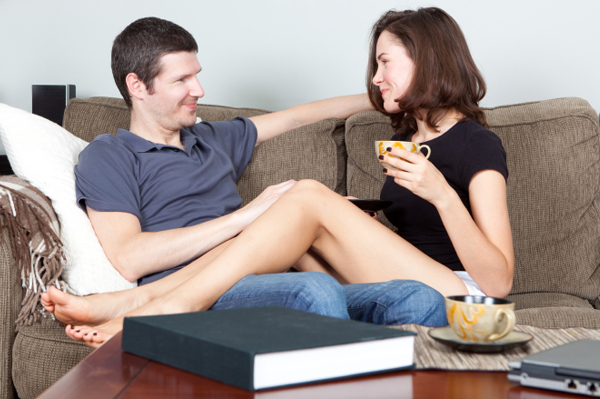 Steal a kiss
Or a smile. Or a wink. Sometimes reconnecting with your man is as simple as taking a moment to look him in the eye and expressing your feelings without saying a word.
Speed date
Have a mini date at home while your baby is napping, enjoying tummy time or entertaining himself in his exersaucer. Pour two glasses of wine (or mugs of coffee to help you stay awake!) and set out some crudité and then sip, snack and chat as you watch your little one play.
Get a sitter
As new parents, take advantage of all those offers from family members and friends who can't wait to get their hands on your darling little one. If you're not ready for a full night out, ask your mom to watch your baby while you and your man take a romantic stroll -- hand in hand -- around the neighborhood.
Make a challenge
When you do take some time to get out sans baby for a night, challenge yourselves to keep the baby talk at home. Catch up on how you've each been doing at the office or the latest news in your community. Of course conversation may drift back to baby (how can it not!) but at least try not to let your little one be the focus of your entire conversation.
Daddy Appreciation Day
Make every day Daddy Appreciation Day. Be sure to thank your man for his part – whether it's working overtime so you can stay home with baby or changing the latest blow out diaper. Make sure he knows he's still the light of your life (along with that new little light!).
Let the laundry wait
We know you have a lot to do. But is anything more important than the ones you love? Baby is definitely getting lots of love and attention right now (and deservedly so!). But your relationship with your man is just as important so make sure to nurture it in any way possible as your share your journey through parenthood. Let the laundry pile up a bit. Ignore the dust on the coffee table (for a night or so), and once baby goes to sleep just cuddle up with your man.
More on couplehood
The sex starved marriage

Plan the perfect babymoon

Be a happy couple after the baby comes