Learn About The Harmony Prenatal Test
As a pregnant mother, you've probably heard about prenatal testing but you're not convinced that the risks are worth it. Read about a new, non-invasive test that has a high accuracy rate and decide if it's right for you.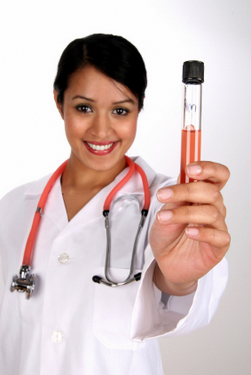 Amniocentesis, chorionic villus sampling, triple screen, maternal serum alpha-fetoprotein test, sonograms -- there are many options for doctors to see if the baby you are carrying has a chromosomal condition such as Down syndrome. However, these tests may not always be accurate, and some have serious side risks, such as miscarriage.
Who should get prenatal testing?
Almost all pregnant women are offered some sort of prenatal testing, but you may be unsure if you should accept the opportunity. We spoke about prenatal testing with Ken Song, MD and CEO of Ariosa Diagnostics, which has developed the Harmony Prenatal Test -- a non-invasive prenatal blood test that offers all pregnant women an early, accurate, personalized and more affordable option for detecting common genetic conditions, such as Down syndrome.
"All pregnant women should undergo testing as every woman, regardless of age, has some underlying risk of having a child with a genetic condition," he told us. "Only 60 to 70% of women are undergoing prenatal testing today. A common misconception is that only women over the age of 35 should receive prenatal testing. In fact, the majority of babies born with Down syndrome are in women under 35 years old."
Traditional testing
"Both CVS and amniocentesis provide a highly accurate – greater than 99 percent – diagnosis of common genetic conditions such as Down syndrome as well as a much broader range of chromosomal abnormalities and neural tube defects," he explained. "But both tests also have a risk of miscarriage, posing a 1 in 300 to 1 in 500 risk of fetal loss."
Traditional first-trimester screening, which analyzes particular proteins that serve as "markers" for Down syndrome, is often offered in conjunction with a nuchal translucency (NT) measurement (which is performed via ultrasound). While less invasive, this type of test is also less accurate. "Together, these tests have an average accuracy rate of about 85 percent and a false positive rate of 5%," shared Dr. Song.
Harmony Prenatal Test
With a single blood draw from the pregnant mother, doctors and labs that use the Harmony Prenatal Test have a new option that has been shown to be highly accurate and less invasive. "With Harmony, the detection of trisomy 21 (that causes Down syndrome) is >99% with a false positive rate less than 0.1%," he reported. "Also, non-invasive prenatal tests like Harmony can be performed as early as 10 weeks' gestation."
To learn more about prenatal testing, trisomy testing, chromosome conditions and patient advocacy organization resources, please visit the Ariosa Diagnostics website.
More on prenatal testing
Types of prenatal testing
Why should I consider prenatal testing?
To take or not to take: Prenatal testing