Happy Baby, Happy Car Ride
When your baby is fussing, any amount of time in the car can seem too long. But with a few tips, you can keep your baby happy and calm throughout your car trip – no matter how short or long.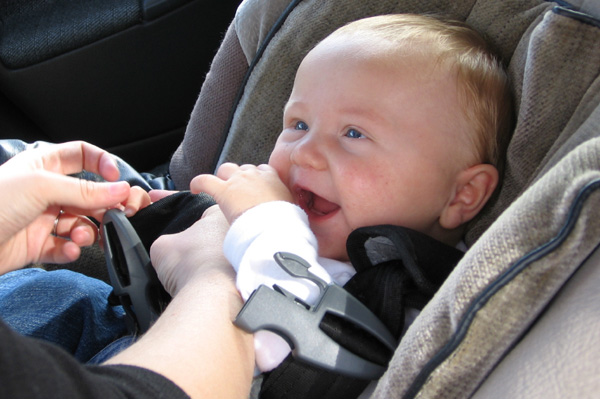 Use a rear mirror
A rear mirror is a great accessory for both mom and baby. You get the benefit of being able to check up on baby by simply looking in your rear view (versus dangerously reaching back to grab a glimpse of your little one). It also provides baby with the chance to entertain himself by cooing, smiling and generally enjoying his own sweet baby face.
Laminated paper and dry erase crayons
One of my favorite must-have mom products are dry erase crayons. They are great for keeping older babies entertained in the car while you're up front driving. Pop a makeshift tray (even an old clean cookie sheet will do) over baby's lap and give him dry erase crayons and a large laminated piece of white construction baby. He'll stay busy for hours.
Magnets
Other fun accessories to use with that aforementioned cookie sheet are large magnets in fun shapes like animals or even the alphabet and numbers.
Soft toys
Attach a car seat bar with some removable soft toys that have buttons or interesting textures that baby can explore while you're at the wheel.
Pump up the volume
Sing songs or rock out to some baby-appropriate tunes throughout your travels. Babies love music and the sound of your voice. So belt it out, Mama!
Bring books
Your baby doesn't have to be reading on his own to enjoy looking a bright/geometric picture books. Bring along a few soft ones he can breeze through as you travel.
Make a snack necklace
Using a long piece of thin ribbon or string, make an edible necklace for table-food-eating babies with looped cereal like Cheerios or Fruit Loops. Baby can wear her necklace as she snacks!
Soothers
Never leave on a car trip without a few essentials – a bottle (or sippy cup and snacks for older babies) in case baby gets thirsty or hungry, a paci if baby uses one and, of course, the all-important special blankie or lovey.
More car trip essentials
Must-have car seat accessories
Tips for traveling with a newborn

Top 10 baby travel tips