Raise A Tiny Reader
Encouraging a love of reading in your child can never begin to early. The Hatch offers some tips on making story time a part of everyday life for you and your baby.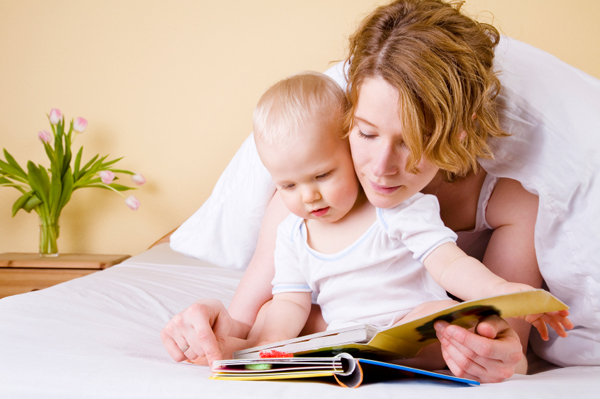 Read to baby in the womb
Baby can start hearing sounds outside the womb - including your voice – at about 20 weeks. He may not be able to understand every word of Goodnight Moon, but he'll certainly recognize the sound of your voice, which will comfort him (often in the form of a story or song) in and out of the womb for years to come. So get started!
In the morning
Reading stories is a great way to start your day. If baby likes cuddle time when he wakes, snuggle up together with a good book. Check out a fun morning time book like Hey! Wake Up! by Sandra Boynton.
Nap/bed time
Preceding nap time with a soothing and relaxing activity like story time is a great way to calm baby before tucking him into bed. Spend about 15 to 20 minutes before naptime reading books to your baby. Do the same at nighttime, selecting calming bedtime books.
Bath time
Even bath time is a great time to read to baby thanks to plastic books made for water play. While baby is splashing around, read to him and show him pictures. Books with fun songs are great to read during a fun time like bath time!
Get a head start on baby's education
Simple books with shapes, every day objects, colors and baby's first words are great to start baby off on the right foot to learning. You need not force any education on him at this point. Simply introducing new things and new books will help baby learn!
Use your resources
The local library is a frugal mom's best friend. Not only does it offer a limitless amount of books, music and videos, many also offer great story times that are specific for young babies. Check out the programs (and books!) at your neighborhood library.
More on reading to baby
Do it for Dr. Seuss: Read to your baby
Help your baby become a reader

Choose the best baby books