Reported Fall Hazard
The popular Bumbo baby seats have been recalled due to a fall hazard. Read on to learn what you need to do if one resides in your home.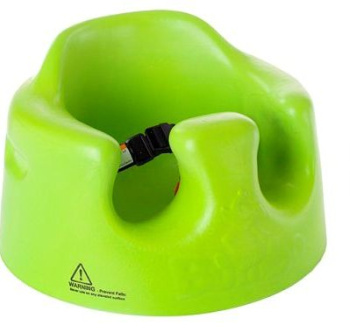 Around 4 million Bumbo seats have been voluntarily recalled by Bumbo and the CPSC due to fall hazards. The seats were originally recalled in October 2007 but additional reports of injuries prompted another recall.
Product Description: This recall involves approximately 4 million Bumbo baby seats that were sold in the US. The Bumbo is a single piece of molded foam in a variety of colors and features a flat bottom with a diameter of 15 inches and has two leg openings. The back of the seat wraps around the baby. Raised lettering across the front of the seat reads, "Bumbo" and is accompanied by an image of an elephant. On the bottom of the seat, "Manufactured by Bumbo South Africa Material: Polyurethane World Patent No. PCT: ZA/1999/00030" appears.
Where/when it was sold: These recalled baby seats were sold in a variety of different retail locations, including Sears, Target, Toys R Us, Babies R Us, USA Babies, Walmart, and other toy and children's stores nationwide, as well as various online sellers. They were sold from August 2003 through August 2012 for between $30 and $50.
Reason for recall: The CPSC has received at least 50 reports of children falling from the seat from an elevated surface. These reports have come since the original recall in October 2007, which involved the company placing a warning sticker on the seat which advises parents against using the seat on an elevated surface. They have also received 34 post-recall reports of children falling from the seat that was either on the floor or on an unknown surface. These instances resulted in a few skull fractures as well as bumps and bruises.
What you need to do: Immediately stop using your Bumbo seat until you order and install a free repair kit which includes a restraint belt with a warning label, installation instructions, safe use instructions and a new warning sticker. The belt should be used every time the child is in the seat and the seat should never be used on an elevated surface.
Company information: You can contact Bumbo and order a free repair kit by visiting www.recall.BumboUSA.com or calling (866) 898-4999 between 8 a.m. and 5 p.m. CT Monday through Thursday and between 8 a.m. and 12:30 p.m. CT on Friday. Do not return the Bumbo seat to retailers as they will not be able to provide the repair kit.
More recalls
Recall: Chicco Polly High Chairs
Recall: Kolcraft Contours Option stroller
Recall: Evenflo convertible high chairs
Image credit: USCPSC