Gerber, NurturMe And Earth'S Best's Baby Food
Looking for organic baby food for your little one? The Hatch has three fabulous choices for you and your baby. Check them out!
These three brands of organic baby food are popular with moms everywhere. With no harmful pesticides used in growing their fruits and vegetables, these will help keep your baby free of chemicals. With a variety of convenient sizes, blends and containers, you're sure to find one that's right for you.
Gerber Organic Pouches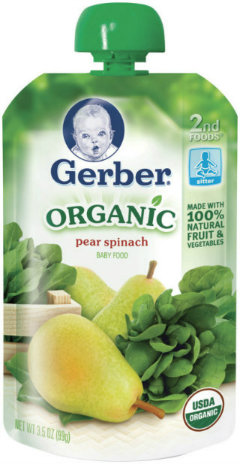 These Gerber Organic Pouches (Toys R Us, $2) are a welcome addition to Gerber's already trusted line of baby food that parents and their infants have enjoyed for decades. USDA certified, these provide parents with an extremely convenient and portable pouch for dishing out organic baby food on the go. Each 3.5 ounce package contains two servings of fruits and vegetables.
Gerber Organic Pouches can be squeezed out into a bowl, wherever you are, or your older toddler may enjoy "drinking" his fruits and vegetables directly from the pouch. This makes it idea for stashing in your bag for travel or for long waits at the doctor's office. Eating organic produce away from home has never been easier.
Some of the palate-pleasing blends offered are pear spinach, banana squash, apples and summer peaches, carrots, apples and mangoes, apple blackberry, and pears, peaches and strawberries.
NurturMe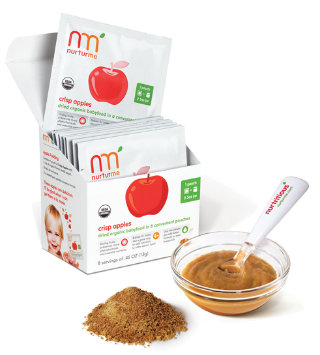 NurturMe (Toys R Us, $10 for an 8 pack) provides dried organic packets that are perfect for feeding baby wherever you are. Using fruits and vegetables from certified-organic farms throughout the US, they feature recyclable packaging. NurturMe is unique as you can completely customize the baby food, using water, breast milk, formula or even whole milk in any amount or combination.
NurturMe's benefits are far-reaching. For one thing, the packets are very convenient and take up far less space in your cabinet and diaper bag. Each pouch weighs less than a jar and is made using cartons created using wind energy, which reduces your carbon footprint. You can also get creative with your child's menu -- add a packet of vegetables to your toddler's pasta sauce, for example, for an additional nutritional boost.
Earth's Best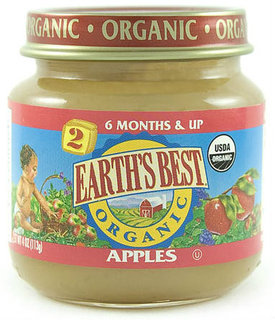 Earth's Best (Toys R Us, $10 for a 12 pack) has a large and diverse product line, starting with the simplest organic single-flavor baby food for your youngest family member. Their certified-organic fruits and vegetables are grown and raised with no genetically-engineered ingredients and are designed for babies and infants 4 months old and up.
In addition to the single-ingredient purees, Earth's Best also has baby cereal flakes, pouched baby food, toddler treats and infant formula. They also offer other baby needs, such as diapers.
More on baby food
Preventing food allergies in babies and children
When should you introduce baby food?
Baby food: Q & A about nutritional content