Tips For Safe Co-Sleeping
Many parents today are opting to co-sleep with their newborns. It can be a wonderful experience for parents and their babies. Before you snuggle in, check out our tips for making co-sleeping as safe as possible.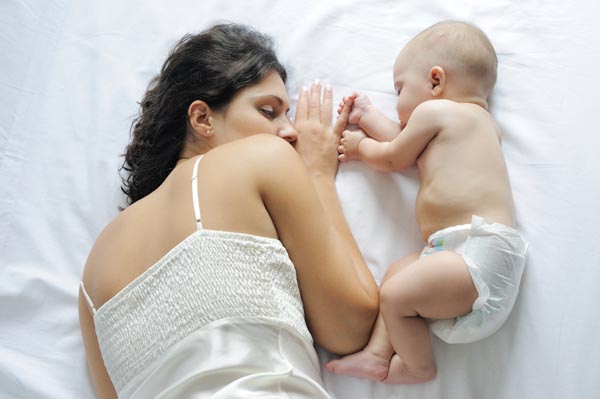 What is co-sleeping?
Co-sleeping simply means sleeping in the same bed with or in close proximity to your baby or young child.
Benefits of co-sleeping
For mothers nursing on demand, it makes breastfeeding throughout the night much easier and allows moms a bit more sleep as they can simply remain in bed with baby as she feeds.
Co-sleeping helps mom and baby sync their sleeping patterns.
Many parents who work long days enjoy the closeness and bond their feel by co-sleeping with their babies.
Dangers of co-sleeping
While there are some beautiful benefits of co-sleeping, there are also some serious dangers. In fact, the U.S. Consumer Product Safety Commission (CPSC) reports that from January 1990 to December 1997 at least 515 baby deaths could be attributed to co-sleeping in an adult bed. Of that number, 121 deaths were caused by a parent/caregiver rolling over baby while asleep.
Many of the deaths were also due to the bed – such as baby suffocating face down in a waterbed or getting entangled in the bed frame.
If you plan to co-sleep with your baby, double-check all hazards of the bed such as a headboard with slats in which your baby's head could get stuck. Also, check out a co-sleeping aid such as the First Years Close and Secure Sleeper, which provides a separate place for baby to sleep within the family bed. It also folds up so it's great to travelling with baby.
Consider room sharing
If you are still unsure about co-sleeping with your baby but can't stand to be so far away, consider sleeping in the same room as baby (with baby in a bassinet for example) for the first few months or year of his life. The American Academy of Pediatrics (AAP) actually suggests sharing a room with baby as a way to reduce risk of SIDS.
More on sleeping with baby
Does your baby need a crib

Co-sleeping: Is it safe?
Co-sleeping with baby: A guide for parents