Data Shows Increase In Rates Across The Board
The Centers for Disease Control has issued its latest breastfeeding report card. Read on to find out what states ranked the highest.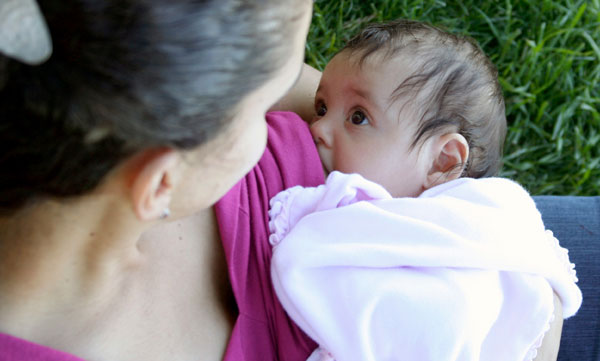 Every year, the Centers for Disease Control reports on breastfeeding rates in the United States. This year's breastfeeding report card showed improvements in the nation's reported rates from 2008 to 2009 (the latest year figures are available). Which state ranked the highest? Lowest?
Overall breastfeeding rates
The rates overall for initiated breastfeeding (meaning nursing your baby from the get-go) increased from 74.6 percent in 2008 to 76.9 percent in 2009, which represents the highest increase in a decade. And the good news doesn't stop there -- breastfeeding rates at 6 months increased from 44.3 percent to 47.2 percent and rates at 12 months increased from 23.8 percent to 25.5 percent.
Results by state
The top spots for moms who breastfed (ever) go to:
1. Idaho 90.8 percent
2. Washington 89.2 percent
3. Oregon 88.9 percent
4. California 87.6 percent
5. Colorado 87.5 percent
The bottom five states in this category are:
46. Arkansas 62.4 percent
47. Alabama 57.2 percent
48. West Virginia 55.1 percent
49. Louisiana 53.5 percent
50. Mississippi 47.2 percent
For moms still nursing at 6 months, here are the top five states:
1. Oregon 68.1 percent
2. Utah 64.4 percent
3. Vermont 61.9 percent
4. New Hampshire 60 percent
5. South Dakota 57.1 percent
And here are the bottom five:
46. Arkansas 29.2 percent
47. West Virginia 28.1 percent
48. Kentucky 27.3 percent
49. Mississippi 26.2 percent
50. Louisiana 23.6 percent
Do you feel encouraged by the increase? What do you think the report will say in 2012 when those rates are announced?
More on breastfeeding
August is National Breastfeeding Month
Breastfeeding tips
Tips for breastfeeding in the heat