Covillow Is Two Products In One
The Hatch went behind the scenes and chatted with the mind behind Covillow -- a nursing cover and pillow in one.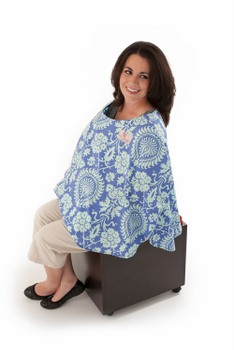 Candice Boehm, momprenuer and creator of the Covillow nursing cover and pillow, sat down with The Hatch to dish on National Breastfeeding Month, how she came about with Covillow and how it can help moms be more at ease nursing in public.
P&B: Candice, tell me a little about yourself and your family -- how many children do you have?
Candice: I am a stay at home mom of two wonderful children, ages 6 and 2. I have a business undergraduate and graduate degree and worked in Corporate America for a while. When I was pregnant with my daughter, my husband and I made the decision for me to stay at home and be with our children. I am busier than I ever was working a fulltime job and I absolutely love being a stay at home mom and wife. I never dreamed I would be a mompreneur, but when I had the idea for Covillow it was something that helped me and I wanted to share it with other moms.
P&B: Have you personally encountered issues when trying to nurse your babies in public?
Candice: Yes, absolutely, I have encountered issues with nursing my babies in public. I am a very modest mother and my biggest struggle was trying to find a private place to nurse my baby when we would be out. I didn't want to show other people the skin on my sides and my back, which would show when I lifted my shirt to nurse, as well as my breast when my cover was moved by my baby or by wind if we were outside. When your baby is crying they are ready to eat now, so having to leave a table at a restaurant or a seat at an event to find was private place was not easy. Typically the only private places I could find would be bathrooms, dressing rooms, or go out to my car. It was also hard for both me and my baby to be comfortable enough to have a proper latch.
"I am a very modest mother and my biggest struggle was trying to find a private place to nurse my baby when we would be out."
My baby liked to eat for 30 to 45 minutes so sitting for a while and holding them on my lap or with my arms was uncomfortable on my back as well as posed a challenge for proper latching because of a lack of propping support for my baby. I made it work as best I could at the time because I didn't have other options for products to help me with these challenges. I also was not able to pump a lot of milk to take with me in public so I needed something to help provide me more privacy and comfort like I had when nursing at home but couldn't find it with the products that were available at the time.
P&B: What inspired you to create Covillow?
Candice: After the birth of my second child we had been in the house for 6 weeks. My daughter was anxious to get out of the house for a while, as were my husband and I. We decided to go to Sea World, not far from our home, as a fun outing. As soon as we entered the park, my son was crying ready to eat. I could not find a private place to nurse him, and there weren't many benches open to sit. It was a very busy day at the park, lots of middle school aged kids were around us, and it was one of the windiest days I had seen in a while.
I sat on a landscaping wall and placed my diaper bag behind me to try to cover my back, I had my husband stand on one side of me, and my daughter on the other side to hold my nursing cover down because the wind kept blowing it away. I was sitting in an awkward position so my son was having a hard time latching. I thought there had to be a better way to nurse in public.
I needed something to cover me all the way around and something to help prop my son up to make nursing more comfortable. The idea for the Covillow came to me and that night when we returned home, I sewed the first prototype, and the Covillow was born.
P&B: How is Covillow different from other nursing pillows on the market?
Candice: Covillow is the only nursing cover and pillow in one that provides mothers with complete privacy on her front back and sides, has an extra soft attached pillow that provides propping support for the baby and the mother for comfort and better latching experience, and the convenience of rolling the Covillow to fit in a diaper bag to take it anywhere on the go.
She can feel comfortable to know that when she lifts her shirt to breastfeed the skin on her back and sides will not be exposed and even if her baby is pushing and pulling the cover, the Covillow will stay in place and her breast will not be exposed. The attached pillow is just the right size to provide propping support while out in public and can be rolled up to fit in a diaper bag.
It is two products in one convenient accessory and the only breastfeeding product that moms need when they are on the go. The Covillow made me and many others that ordered Covillow feel so comfortable to breastfeed anywhere. I only wish I had it when I breastfed my daughter.
P&B: How do you think Covillow ties into National Breastfeeding Month?
"We support breastfeeding no matter what -- and we know the challenges of breastfeeding"
Candice: Nationa Breastfeeding Month is a fantastic window of time to help bring awareness and education to moms about all of the products, support, and information out to help families that choose to breastfeed. Having information on breastfeeding more readily available to mothers during a time where breastfeeding is a focus provides tremendous help to moms as to the products available, the experiences of other moms that have breastfed, and the discussions taking place around breastfeeding.
We support breastfeeding no matter what -- and we know the challenges of breastfeeding. Our goal is to make the breastfeeding experience for moms as easy and comfortable as possible. Breastfeeding Awareness Month is a great time to share Covillow and our story with moms everywhere to let them know you are supported, and we are here to make your breastfeeding experience easier.
P&B: What would you tell a new mom who may be struggling to breastfeed her baby?
"If you have questions or concerns, talk to other moms and see what experiences they have had."
Candice: I would tell her that she is not alone. If you have questions or concerns, talk to other moms and see what experiences they have had. Moms are very resourceful and talking to them may give you ideas on how to work through challenges you may have. I have had challenges and it is amazing that almost every mom I have talked to has had very similar if not the same challenges I have had breastfeeding. If you ever want to email us with questions, we are here and want to provide you with the support you need to breastfeed for as long as you choose to. Breastfeeding is a beautiful experience that is good for both you and your baby. It is not easy, but with Covillow it will be easier.
Read more about Covillow at their website, www.covillow.com. >>
More on breastfeeding
5 Common issues with breastfeeding
Breastfeeding on-the-go
Ten breastfeeding myths you should never fall for