Essentials You Need
Here are a few tips on what to pack in your diaper bag so you're not scrambling for essentials while you're away from your home.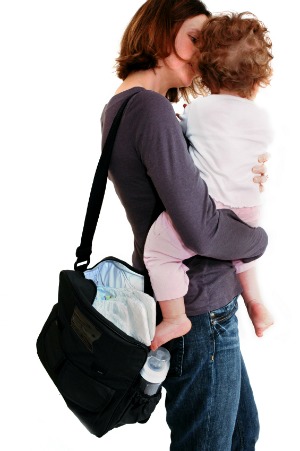 The diaper bag can be mom's best friend while she's out and about. Chances are you spent a lot of time selecting the perfect bag. Now, what do you need to keep in it to make sure that your baby is taken care of while you're away?
Diapers
First and foremost, you'll need diapers. I tend to overpack diapers. It's better to have too many than too few. A good rule of thumb is to pack two more than you think you'll need, whether you use cloth or disposable. A wetbag or plastic grocery bag is a good idea too if you're not near a trash can (or are using cloth). And of course, wipes.
Extra clothing
Babies are messy -- they can spit up their breast milk or formula, dribble baby food on themselves or have a diaper blowout. Make sure you have at least one season-appropriate spare outfit on hand.
Your wallet and phone
A lot of moms, myself included, treat their diaper bag as their purse so they don't have to carry two bags. Keep your wallet and phone handy -- many diaper bags have inside pockets designed for mom's stuff.
Toys or soothers
If your baby has a favorite toy or pacifier, take it along -- with a spare. You never know when he'll drop his binky in a mud puddle or dip his fave stuffed animal in his baby food.
Food and medicine
Pack along snacks or baby food if your little one is eating solid foods, and take along a clean baby spoon in a baggie -- this way you can put it back in your bag after she's done without having it make a mess. Keep medicines nearby too, if she needs them.
Contact information
On the unhappy occasion that you lose your bag and its cargo, having a card (laminated if possible) attached to the inside of the bag will help whoever finds it get in touch with you.
Tell us
What is your must-have item in your diaper bag?
More on baby necessities
Cloth diapers for the modern parent
The dirt on diapers
How many diapers does a newborn need?