And World Breastfeeding Week Is August 1 - 7
Today kicks off both National Breastfeeding Month as well as World Breastfeeding Week. Read on to find out about the history of both and how you can help spread breastfeeding awareness.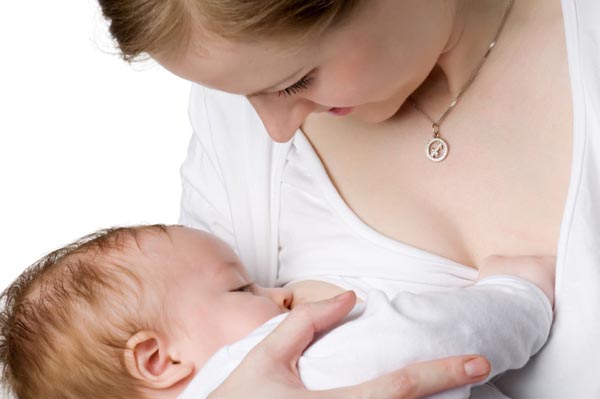 Last year, August was declared to be National Breastfeeding Month and this year celebrates the 20th annual World Breastfeeding Week. Here is some info about both and what you can do to help support breastfeeding moms.
National Breastfeeding Month
August 6, 2011, the United States Breastfeeding Committee declared August to be National Breastfeeding Month. This year's theme is "Everyone Can Help Make Breastfeeding Easier."  A social media campaign has been developed with a calendar of actions that those interested in participating can consult throughout the month of August, starting on August 6. Those interested are urged to follow USBC on Facebook (http://www.facebook.com/usbreastfeeding) and Twitter (http://www.twitter.com/usbreastfeeding) and share sample posts or your own to help spread the word about how everyone can help make breastfeeding easier and more accessible for moms.
A sample Facebook post that you can share with your friends, families and followers reads: "In honor of National Breastfeeding Month, join the conversations on Facebook and Twitter to highlight the many ways 'Everyone Can Help Make Breastfeeding Easier.' Each weekday from August 6–31 the '20 Actions in 20 Days' campaign will focus on one of the steps set forth by The Surgeon General's Call to Action to Support Breastfeeding and what is being done to answer the call. Learn more at www.usbreastfeeding.org/nbm."
World Breastfeeding Week
This year marks the 20th anniversary of World Breastfeeding Week, which was started by the World Alliance for Breastfeeding Action.
"The Global Strategy for Infant and Young Child Feeding has identified a clear need for optimal infant feeding practices in reducing malnutrition as well as poverty," states the website. "It is based on a human rights approach and calls for the development of comprehensive national policies on infant and young child feeding. It provides guidance on how to protect, promote and support exclusive breastfeeding for first six months, and continued breastfeeding for two years or beyond together with adequate, appropriate and indigenous complementary feeding starting from the age of six months."
Follow tweets on World Breastfeeding Week -- and for those who want to create an event, there is a form you can fill out at their website to register your event. You can also search their website for events close to you.
More on breastfeeding
Breastfeeding tips
New AAP breastfeeding recommendations
Tips for breastfeeding in the heat