Moisturize And Hydrate, Mama!
Your skin may be drier than normal during your pregnancy, and it can get a little maddening -- especially towards the end. Here are a few tips to restore your skin, and your sanity.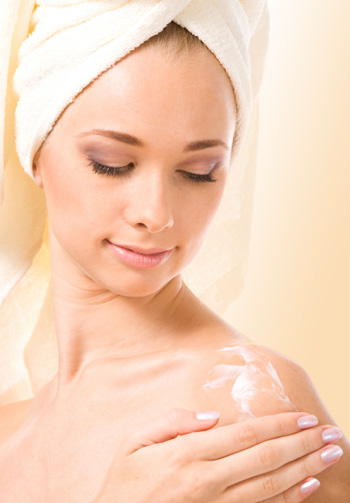 Hormones and skin stretched to the max can be an itchy combo. Dry air (either outdoors or in) can add to your misery. How can you keep the itchies away while you're pregnant?
Hydrate from the inside
Yes, I know, you're tired of being told to drink water. But trust me -- it helps so many things in anyone's body, and even more for a pregnant mom's. Drinking water can actually have a beneficial, hydrating effect on your skin. Drink up!
Lotions
There are scads of lotions available to ease your dry, itchy skin. Choose one with natural ingredients (I love the CJ's line of products) and avoid those that contain alcohol, which can actually have the opposite effect -- the last thing you want your lotion to do is dry you out!
Water yourself
After a shower, lotion up while your skin is still damp -- this can help your skin retain some of the moisture from your shower.
Use oils
Some oils, like the totally delicious coconut oil (get extra virgin/unrefined if you're shopping), can serve as an excellent moisturizer. Believe it or not, it goes on easily and absorbs so well it doesn't leave a greasy feeling behind. Also -- a spoonful or two (ingested) can also help moisturize your skin from the inside out.
Avoid scratching
Sounds impossible, but if you can, avoid scratching -- especially with your fingernails. You risk damaging your skin, which can lead to infection. Instead, rub the itchy spots with the pads of your fingers. Liberally apply your moisturizer of choice for the maximum effect.
My belly was always the itchiest portion of my pregnant body, so once the baby was born I always felt quite a bit of relief -- so hopefully you will too once your little one arrives.
More on pregnancy
Skin changes during pregnancy
5 Tips for preventing stretch marks
Safely treating acne when you're pregnant