USA, Baby!
As an Iraq War veteran, actor J.R. Martinez clearly has pride in America. That pride stretches all the way to his newborn daughter Lauryn Annabelle's nursery.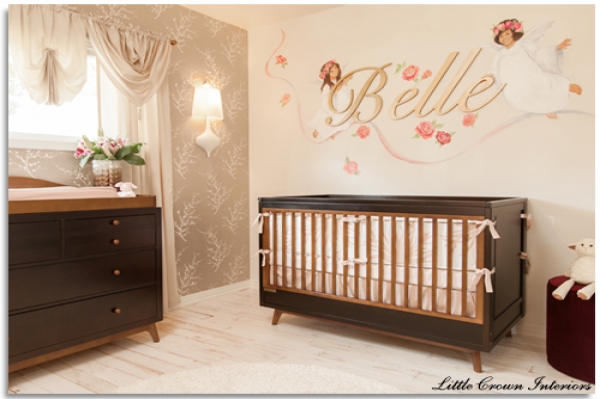 When the actor and his partner Diana Gonzalez-Jones learned they were expecting a daughter, they purposefully designed the little bundle-to-be's nursery with American-made products.
Furniture
The couple chose a two-toned wood finish pairing deep espresso with a warm walnut accent color for the crib, dresser and changing station that were manufactured in North Carolina by Young America, a company dedicated to domestic production of safe and high quality products.
Flooring
J.R. and Diana enlisted Shaw Floors, based in J.R.'s hometown of Dalton, Georgia, for the nursery's whitewashed hardwood floors and an area rug. J.R. got his first job at the flooring company and his mother also worked there for many years so the company holds a special place in J.R.'s heart. The company also prides itself on offering all kinds of flooring options that are USA made.
Bedding
The couple chose gorgeous bedding (the Freesia collection) and a glider by Oilo and a Naturalmat Coco mat to complete their daughter's crib.
Custom elements
J.R. and Diana used the services of L.A.-based interior design firm Little Crown Interiors to lead the design process of the nursery. It was important to the couple to include American-made products in their daughter's nursery, but they also wanted to honor some of their late loved ones not only by way of their daughter's name, but by incorporating their memories into the design of the nursery.
Above the crib, a customized and very personal mural serves as the focal point of the room. The mural honors Belle's namesakes – Diana's late sister Lauren and J.R.'s late sister Anabel. The late sisters are depicted as angels floating on either side of the custom-made sign that spells Belle.
Belle was born on May 2. She has an amazing nursery to grow up in, don't you think?
More on nursery décor
How to buy a crib

Feng Shui the baby nursery in 6 steps
Do's and don'ts for creating your first baby nursery