Make Your Late Summer Road Trip With Baby A Success
As summer wanes on, you may be ready to get outta town for a little vacay. But is it smart to take baby on a road trip? With a few tips, a road trip with baby can be a fabulous vacation.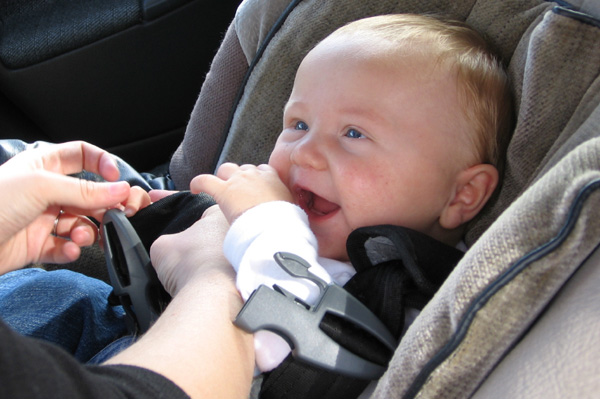 Pack in excess
I usually suggest packing light for a road trip, but not when you're traveling with baby! Be sure to pack extra clothing (for warm and cool weather!), diapers/wipes, soft towels and blankets.
Keep baby cool and comfortable
Keep the air conditioning on in the car and never, ever leave baby in the car even for just a moment. Make sure he is comfortable in his car seat, adjusting the air or putting a blanket over him, if needed.
Be prepared for lots of stops
Traveling with a baby is not as easy as traveling with you and your partner. You'll need to make several stops so you can take baby out of his seat, stretch his little arms and legs, change his diaper, feed him and simply give him a break from being strapped in his car seat.
Pack a cooler
Within arm's reach, keep a cooler packed with baby's essentials like prepared bottles of milk, breast milk or water, as well as baby food and little snacks like mashed or cut up fruit and vegetables, cheese sticks and crackers.
Shade
Equip your backseat windows with pull-down shades to protect baby from the sun as well as to encourage a nap.
Rock the tunes
Bring some soothing music to calm baby during fussy or tired times. Don't forget to bring your favorite road trip anthems so you can rock out, too!
Baby entertainment
Depending on your baby's age, bring some simple soft toys, books you can read to him and push button/musical toys he can entertain himself with when you need to play navigator to your road trip captain.
Don't forget the lovey
Before you head out on your road trip, make sure you have baby's lovey with him in the car. If this is baby's first trip, having his lovey with him can provide him with comfort when staying in a new and unfamiliar place.
More on traveling with baby
Traveling with your baby: The portable child

Travel with kids: Be prepared for accidents
Top 10 baby travel trips