Tummy Time Every Day
Tummy time is important for baby's development. But not all babies take to tummy time right away. Check out these tips for making tummy time fun for baby – and you!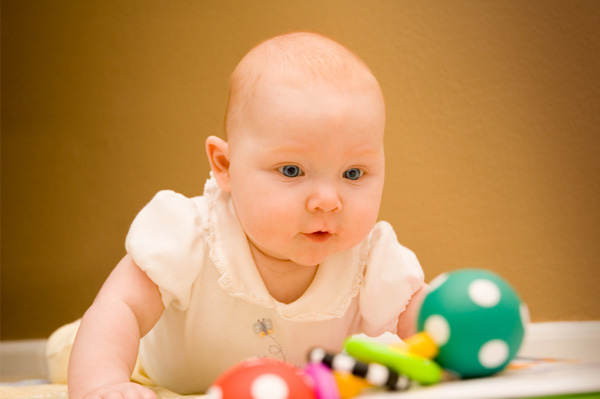 Why tummy time is so important
Because doctors now recommend that parents put babies to sleep on their back to reduce risk of sudden infant death syndrome (SIDS), babies are spending less time on their tummies – which means they are not developing neck and upper back muscles that are needed to help them lift their heads, sit up without help, roll over and crawl.
How much tummy time does baby need?
According to Early Childhood News, parents can start introducing baby to tummy time at birth, little by little. The article states, "… by three months, babies should be experiencing about an hour of tummy time per day, spread out over the course of their awake time."
Set up a tummy time station
Encourage tummy time by making it fun and exciting for baby. Lay a blanket down and set out some soft, geometric black and white or colorful toys for baby to look at. You can also purchase a play mat like the Baby Einstein Baby Neptune Ocean Adventure Gym, $58, which offers exploratory fun for baby during tummy time and also on his back.
Share tummy time… for a little bit
For the first few times, get down on the floor with baby and explore this time together. Read or sing to baby and enjoy a simple game of peek-a-boo. However, it's important to allow baby to enjoy his tummy time independently as well. Stay nearby, but use tummy time as an opportunity to give yourself a few minutes of me-time while your baby plays.
Try and try again
Keep in mind that baby may initially resist tummy time. Don't drag it out too long if baby is very upset, but don't give in either. You should give him a few minutes to get used to being on his tummy and learn to enjoy it. Keep trying little at a time and soon tummy time will be a fun daily experience for both you and baby.
More on tummy time
Tummy time: Why it is essential for baby's development

How play stimulates baby

Your baby needs tummy time