When Your Old Jeans Just Won'T Fit
There comes a time in your pregnancy where your clothes are a little tight and uncomfortable, but you're not ready for full-blown maternity wear. Here are a few tips for making that transition easy and fashionable.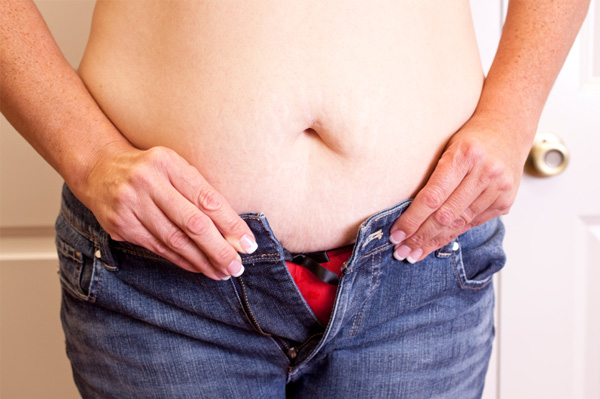 You may be looking forward to looking pregnant, and that includes a big belly full of baby. This also most often necessitates a change of wardrobe, which can also be a ton of fun to shop for. However, before your belly really pops out, you may feel like your current clothes are stretched to the max. Maternity clothes may look silly on you when your belly isn't that big, so what's a mom to do?
Yoga pants
Invest in a few pairs of stretchy, wonderful yoga pants (if you don't already have them). I lived in mine for a few months and I honestly didn't even really "look" pregnant -- but I was so much more comfortable without waistbands and snaps digging into my pregnant, bloated tummy.
Belly bands
There are several brands of belly bands which makes the early growth easier to handle because you can use your regular clothes while accommodating your growing belly. They are a tube of stretchy material that you wear over your pants and under your shirt -- meaning you can wear your favorite jeans, unbuttoned and unzipped, and they won't fall down. They may not work for your whole pregnancy but they are perfect for that in-between phase.
Daddy's clothes
Your partner's clothes can be a valuable asset to your maternity wardrobe. Snag one of his button down shirts, roll up the sleeves and add a belt and leggings -- instant cute, and comfortable enough for home while looking good enough for the office.
Maxi dresses
This summer's hot style is perfect for a burgeoning belly. Pick up a few maxi dresses and don't even worry about tight pants -- you won't need to. They can be dressed up or down and are appropriate for work, a night out and lounging around your house.
Soon enough you will be ready to graduate into full-time maternity wear, but you can probably continue to use some of these tricks your entire pregnancy.
More on maternity clothes
10 Ways to save on maternity clothes
Maternity clothing that will last
Finding petite maternity clothing