Sometimes The Answer Is No
Your baby's crib is one of the biggest expenses you will face as you plan your nursery. However, some parents don't even bother. Do you really need a crib?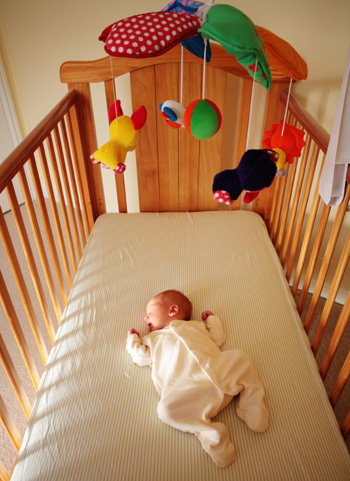 You may already know that you're going to co-sleep with your baby, but even if you don't plan on it, you don't have to buy a crib before she arrives.
Crib optional?
If you're planning to co-sleep with your little one, you likely won't even be shopping for a crib -- at all. But there are other alternatives to a crib, even if you're not planning to share a sleep space with your baby.
Bassinet
Bassinets are very useful to a new parent. Many come with a wheeled base so they can be moved around your house -- to beside your bed at night, to the living room during the day. Babies can generally occupy most bassinets for around three months, so it can put off a crib purchase for a little while, anyway. Bassinets come in all shapes and sizes -- even ones that do double duty as a play yard.
Play yards
You can also use a play yard as a sleep space. These portable "beds" don't look or act like the playpens of yesteryear -- baby is fully and safely enclosed in a small space without parts that can pinch a baby's tiny fingers.
Skip the separate bed
Or you can skip the separate sleep space altogether. If you're planning to co-sleep exclusively, there may not be a real need for a crib. They do come in handy, though, if you need to stash your babe in an emergency, but you can use a play yard for that as well.
As long as you're fully aware of the standard co-sleeping safety rules, you will be fine. Remember to keep all blankets and pillows away from your baby (especially her face), don't co-sleep if you've been drinking or under the influence of drugs, keep your baby between you and a wall (not in between you and your husband) and make sure your bed is firmly against the wall.
The crib that we got for my fourth baby has mostly been a diaper drying rack and used for clothes storage, and more recently a play space when I converted it into a toddler bed (that she still doesn't sleep in).
Tell us
Did you buy a crib for your baby, or did you plan to co-sleep? Did your crib go unused, or was your baby a full-time crib sleeper?
More on co-sleeping
Co-sleeping: Is it safe?
Co-sleeping means no recalled baby cribs
Co-sleeping with baby: A guide for parents