Share Your Pregnancy With Your Man
You've heard the quote, "A woman becomes a mother when she gets pregnant, a man becomes a father when he sees his baby." It doesn't have to be that way, though. Help your man be part of the pregnancy process and bond over baby-on-the-way with these fun tips.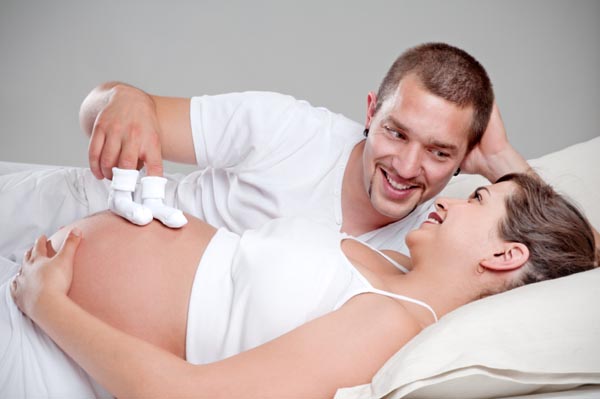 Attend doctor's appointments together
One of the coolest experiences to share with the father of your child is to watch the sonograms together. Seeing baby in your tummy and hearing the heartbeat is something so unexplainable and amazing. Giving your man the chance to see this moving, living being inside your tummy will give him an amazing visual of his baby to be!
Read pregnancy books together
One of my favorite parts of my pregnancy was reading Your Pregnancy Week by Week aloud with my hubby. Each weekly chapter highlighted some of the cool things happening with baby that particular week, and it helped both of us envision our developing little one.
Encourage your man to talk to baby
Research shows that in the womb baby can hear your voice starting around 16 weeks into your pregnancy. Encourage your man to talk to your baby. If he doesn't know what to say, tell him to read or sing -- studies show that if sung to in utero, a baby can recognize a familiar tune once he's born! Amazing, right?
Let him feel baby kick
You may be able to feel your baby kick anytime from 16 to 20 weeks, according to the American Pregnancy Association. A few weeks following, your man should be able to feel those kicks from outside. Let your man get used to resting his hand on your belly, whether or not he can feel the kicks yet. Once he finally does, it will be an awesome feeling for him.
Reach out to him
You're probably experiencing all kinds of mixed emotions during your pregnancy… Guess what? Your man is, too! Share your feelings, your excitement and your fears. Bonding over your pregnancy can be an incredible way to grow closer to your man before baby arrives.
More on pregnancy and your man
Fun ways to tell your man you're expecting
How to deal with new dad concerns
Sex during pregnancy