Fun Ways To Exercise With Baby
Once your little one arrives, you may be find time to do anything – let alone workout – is sparse. But reigniting your workout routine is good for you and baby. Check out these fun ways to include baby in your workout routine.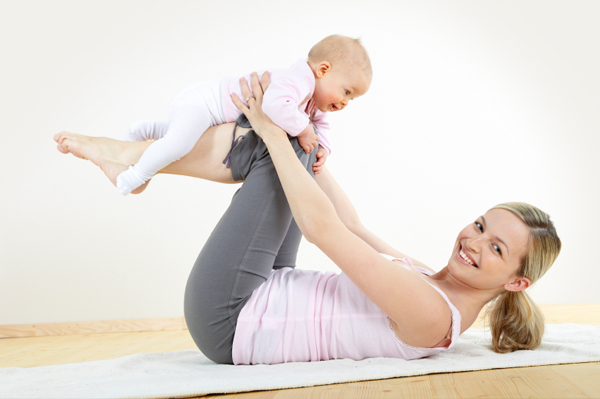 Take baby for a walk
Taking a brisk walk around the neighborhood is one of the easiest ways to get back in the workout groove while giving baby some time to explore the world around him. Tuck baby into a carrier facing out, strap on your sneakers and get going.
Mom and baby workout DVD
There are endless DVDs that combine a workout for mom and baby. If you find yourself missing your pre-natal yoga class, try a mommy-and-me yoga DVD like Shiva Rea Mama & Baby Yoga DVD, which is designed for new moms and their babies, three to six months of age.
Once your little one is old enough to participate, check out some fun DVDs designed to get kids moving like the Move 'n Groove Kids at the Zoo DVD designed to get kids ages two to five exercising in a fun new way.
Stroller Strides
Chances are there is a Stroller Strides group in your area. The class incorporates your stroller (and baby) into a complete whole body workout. This is a great way to workout with baby while also getting out and about with other new moms and giving baby a chance to socialize with others his age. If you don't want to join a class, you can simply take baby out for a stroll in his stroller or invest in a jogging stroller if you want to pick up the pace.
Gym day care
Many gyms and fitness centers offer daycare while their clients are working out. Check out the baby care options at your gym. Ditch any mom guilt feelings you may have about leaving baby behind while you exercise. Working out regularly will increase your stamina and energy (much needed for taking care of baby) and also set an example for baby as to the importance of exercise.
More for new moms
Finding a fitness routine after baby
Maintain your identity when you become a mom

How to get your groove back after baby