Get Down After Baby
It's been six weeks. Your doctor has just given you the O-K to go ahead and hit the sheets with your hubby… if you know what we mean.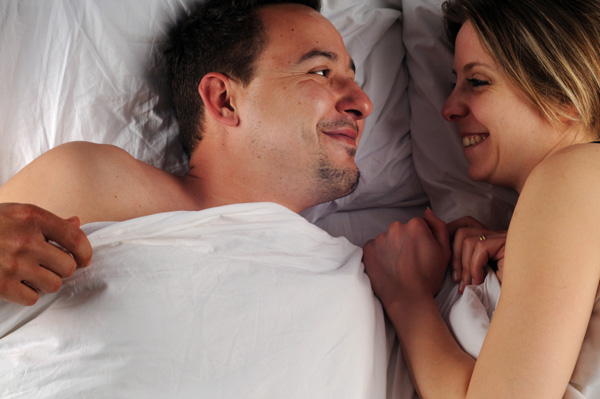 Between the baby spit on your shirt and the extra pounds on your belly, you may be feeling less than inspired to start up a sweat session in the sack. But having a baby doesn't have to diminish your sex life. Check out these tips to help you get your groove back after baby.
Change into something less comfortable
New moms may spend a lot of time in sweats or nursing jammies -- so not sexy. Ditch the comfy digs for a sexy little number – a matching lacy bra and panty set or something a little racier. It might feel silly to play dress up at first – but once you check your hot-mom self out in the mirror and get a glimpse of your man's expression when he sees you, you'll rethink the merits of sexy lingerie.
Your man wants you
Even if you're not feeling especially sexy these days, we're betting your man thinks you look as beautiful as ever, especially with those newfound curves – in all the right spots. He's probably even more googly-eyed over you than usual as of late since you just gave birth to his child. How do you like that little ego boost?
Start out slow
Sex is like riding a bike. You never forget what to do no matter how long it's been. But you may be a little rusty, so start out slow.
To get in the mood, take some time for simple foreplay like giving each other massages. Make sure your husband understands your reservations and is on board with taking things slow as well. Hint: If it means he gets to have sex with you again, we're pretty sure he'll agree to anything you want.
Cut yourself some slack
New moms tend to over-think every little thing – don't let sex after baby become one of those things. Sex shouldn't be something to stress over. That sucks the fun right out of it. So what if your first post-baby sex isn't the best? Don't sweat it. But don't give up, either. Have fun trying (and trying!) to get your groove back.
More new mom tips
Maintain your identity when you become a mom
How to find a mom's group

Sex after pregnancy