Stroller Shopping 101
Stroller shopping can easily become overwhelming by the amount of options new parents have to choose from. Check out our stroller guide to help you make an informed decision about which stroller is right for you.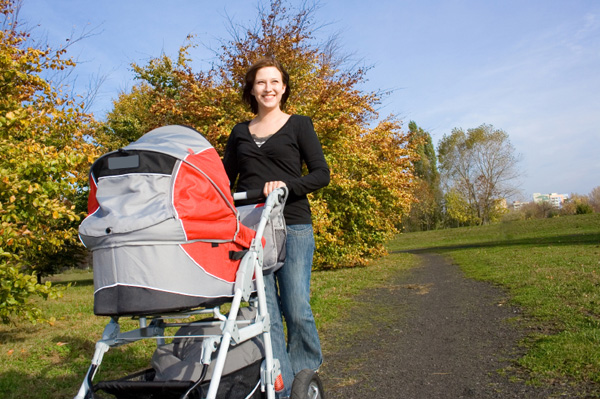 Safety
Seatbelts are of course of one of the most critical elements of your stroller. If you plan on toting your newborn in a stroller, you'll need one that can house his infant car seat (which should be equipped with a 5-point harness). Many have the option to snap in the infant seat, but when baby gets older, he can sit in the actual stroller seat. Note that some strollers designed for older kids only have a 3-point harness without shoulder straps – for ultimate safety, infants should always be belted in a 5-point harness. The stroller should have a wide base to prevent tipping and wheel brakes to keep it in place.
Storage
Storage is an all-important feature on many strollers. Look for a storage basket underneath the seat, a perfect place to store baby's diaper bag when you're on the go. Cup holders and other organizer pockets are also invaluable for new moms with inevitably too much stuff -- but make sure the holders don't hang down to avoid tipping the stroller.
Shade
Sun/environment protection is vital for new babies. Make sure the stroller you choose has a large shade cover you can pull down to shield baby from sun, wind and rain.
Durability
Newsflash: Strollers can get very expensive very quickly. But you often get what you pay for. A stroller is one of the baby items that you'll be able to use for two to four years, maybe even longer and for a second or third child, so make sure the stroller you purchase is durable enough to go the distance
Types of strollers
There are just about a zillion types of strollers to choose from. Here's a quick breakdown of options:
More baby product tips
Pick the right baby carrier for you
How to buy a crib
Coming soon: The Britax B-Agile double stroller