What To Add, What Not To Add
When you're faced with creating a baby registry, you may want to add everything, or may be unsure where to start. Real moms share their favorite items, and what they could have lived without.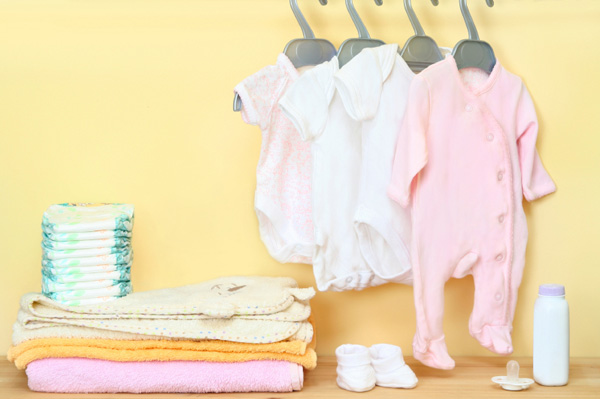 Furniture? Baby bathtub? Clothes? The latest and greatest gadgets? When you're at the store with your scanner in hand, you may be a little overwhelmed. What will you use, and what will just sit in your closet? We asked real moms what they used the most from their baby registry, and what wasn't the wisest choice.
Real moms dish
Shelly, mom of two: "Diapers, gift cards to places that sell baby clothes, maybe a few outfits, breast pump and gift cards for more diapers."
Kelly, mom of two: "Cloth diapers, swaddle blankets, clothing, Nose Frida .. and I'd go ahead and throw a Beco carrier on there. For my first baby, I was really concerned with getting nursery items, you know ... for the crib and nursery he never slept in. I ended up feeling silly about that."
Meagan, mom of one: "Isis pump, NoseFrida, Boppy pillow, a few bottles, diapers and wipes, fenugreek, a thermometer, baby vicks rub, gas drops by the case. Oh yeah, an Ergo!"
Alisha, mom of three: "A wrap or carrier! Cloth diapers, gift cards."
Skye, mom of five: "The only things that I ever used for babies in the newborn stage were soft little cotton gowns, assorted blankets, cloth diapers, and a vessel in which to bathe them. If the mom-to-be knits, some nice, special yarn like 3IG or Louet is a nice gift, something to keep her occupied while recovering from birth or while a newb is nursing or sleeping on her."
Bethany, mom of one: "I registered for sooooo many sheets. I have yet to open most of the packages."
"I registered for sooooo many sheets. I have yet to open most of the packages."
Nicole, mom of one: "I always liked to give people bath stuff, like a personalized gift basket with creams and soaps, but I ended up with so many lotions and soaps, that she was a year old before some of it ran out -- and some I couldn't use because her skin was too sensitive! We also ended up with a ton of little blankets, wash cloths and bibs that she didn't use either. I could have gone more than a month and never washed a bib. We got lots of pjs and dresses but not many casual clothes like shirts and pants. And you can always use diapers!"
Sarah, mom of one: "Boppy (or some other nursing pillow), a good rocking chair and ottoman/stool, swaddle-me/woombee blankets."
Taryn, mom of two: "Diapers, receiving blankets, wraps/slings/carriers. Gift certificates for clothes."
Liz, mom of two: "Must haves: Diapers, gowns, a Boppy, washable breast pads, nursing bra. The hospital I delivered at gave us the best blanket for swaddling, and we ended up getting a ton of blankets that we weren't able to swaddle with and they have pretty much just sat there since we got them."
Noelani, mom of two: "My favorite item I got was a Moby. The one item I wanted and never got was a NoseFrida."
Lindsay, mom of one: "Must-haves are burp cloths, bibs, wipes and diapers. My favorite is a frog pod. It holds all the bath toys, shampoo and soap. By far the best thing we registered for."
Heather, mom of one: "I would have done anything for a nursing glider and ottoman. It's my one regret."
Take heart
No matter what, you'll probably get things that you don't wind up using, and may wish for things that you didn't get. Fortunately, you'll have plenty of time to stock up after your shower, and may be able to return some of the "don't needs" for store credit to get things that you'll use.
More on baby gear
Baby registries. Ahhhh!
Setting up a baby registry
3 baby registry items you need