Not Your Grandma'S Cloth Diapers
Looking to try cloth diapers, or broaden your stash? Check out some of our favorite brands!
Thirsties
Thirsties is a favorite cloth diaper brand for many moms because of their famous diaper covers with double gussets. They also carry a line of fitted diapers and an all-in-one, as well as other must-have accessories. The unique thing about Thirsties is that they have "Duo" sizing, so instead of a one-size option you have two, and the bonus is that each size then adjusts to fit several different sizes. Each comes with either snap closures or hook-and-loop.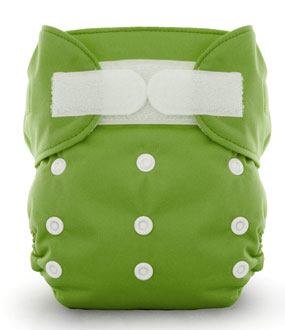 Thirsties Duo All-In-One ($16-17) cloth diapers go on in one step -- nothing to stuff, fold or assemble -- just like a disposable diaper, but much, much better. They feature a tunnel design for ease in washing and drying and also allows for customizing absorbency if needed.
Thirsties Duo Wrap ($13-14) diaper covers feature a double gusset and are great paired with prefolds, fitted diapers or with Thirsties brand inserts.
Thirsties Duo Fab Fitted ($17) cloth diaper are super soft and also have the same unique tunnel design that the AIOs do. They work fabulous when used with Thirsties covers, or even wool or fleece.
AppleCheeks
AppleCheeks is a Canadian company that creates gorgeous and collectible cloth diapers. They feature a unique diaper envelope system, and the multiple insert options make it easy to customize to your baby's individual absorbency needs. The waterproof outers are almost as soft and squishy as the fleece lining, and the inserts can be placed in the envelope or simply laid on top. And better yet -- the insert, if stuffed, will agitate itself out of the wash due to the large envelope opening!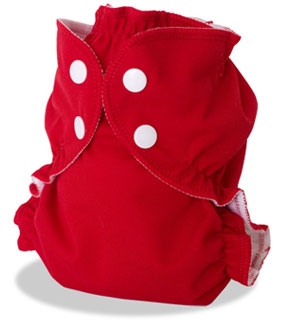 AppleCheeks 2-Size Envelope Cover ($19-20) comes in a wide variety of gorgeous colors and features a very soft microfleece lining, two rows of snaps for easy fitting, and gentle elastic at the legs and the waist. The wide tabs also help prevent wing droop.
AppleCheeks inserts -- many options! One-Size Stay-Dry Microterry Inserts (2 for $8) has a stay-dry top layer so it can be laid in the cover next to baby's skin, just like the One-size Rayon from Bamboo Insert (2 for $18). There are also Bamboo boosters available for extra absorbency (2 for $8).
Fuzzibunz
Fuzzibunz continues to revolutionize cloth diapers, even 12 years after Tereson Dupuy invented the first modern pocket-style cloth diaper. Their newest offering is a new twist on their classic one-sized diaper, and they still offer a sized diaper that has the perfect fit.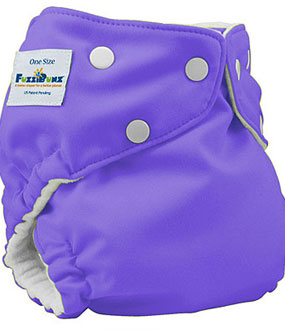 FuzziBunz One Size Elite Diapers ($20) feature a unique elastic adjustment and replacement system along with their much-loved silky-soft pocket lining and two super plush minky inserts. Each diaper will fit 7 to 35 pounds and comes with replacement elastic -- in case the original elastic wears out before your little one potty trains. The hidden adjustment system is courtesy of buttonhole elastic -- simply move up a notch when your baby grows bigger.
FuzziBunz Perfect Size Diapers ($14-17) offers parents a trim-fitting diaper for each stage of their diaper-wearing years. Each diaper comes with one microfiber insert and the diapers have plenty of room for extra stuffing, which makes them ideal for overnight wear.
Itti Bitti
Itti Bitti is an Australian company that started selling cloth diapers in 2005 and has since expanded, quite successfully, into the American market around 2011. They have three different styles of cloth diapers and are all an excellent addition to any diaper stash.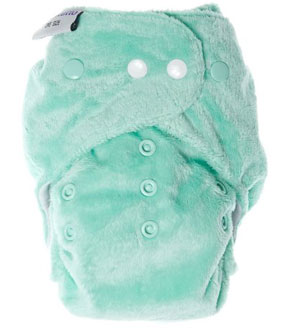 Itti Bitti Bitti Tutto ($27-28) is a one-sized diaper that features a complete internal gusset (also known as a "poo fence") that helps keep the contents of the diaper where they belong. It also comes with three soaker pads that are brilliantly color-coded (no guessing!) that allow you to completely customize the diaper to your baby's individual needs. Completing the diaper is a soft minky outer shell that comes in several colors and prints.
Itti Bitti Bitti D'lish ($19-20) comes in either an all-in-one style or a snap-in-one style -- both of which contribute to a very trim-fitting diaper. Both are very absorbent and suitable for daycare or Daddy, as they are super easy to use. These are sized diapers to ensure the best possible fit.
Itti Bitti Bitti Boo ($19-20) are also sized diapers and are also super trim. They feature snap-in soakers that help you find the best fit and absorbency for your little one.
Bambino Dolce
Bambino Dolce creates beautiful boutique diapers at an affordable price. Bambino Dolce has a variety of different diapers to choose from and accessories that will make your baby look totally fabulous.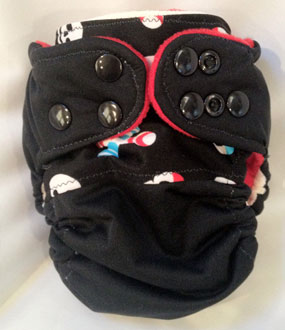 Bambino Dolce Easy Care All-In-One ($18-22) cloth diapers come in three sizes and features double gussets to contain messes. Its snap down soaker is attached at the back and topped with soft wicking microfleece for a stay dry feel. This design allows for the diaper to be used alone for a trim fit, or with the addition of an extra soaker pad under the stay dry layer for nighttime or for heavy wetters.
Bambino Dolce Easy Outfit ($24-40) pairs an All in Two diaper shell and its soft velour-topped insert with a matching shirt, dress or romper to create a complete outfit. A fun option for every day or for special occasions, such as picture day or birthday parties.
Cloth on the Go Diaper Bag ($90) is simply fabulously cute, and smart. This messenger-style bag is designed with the needs of a cloth diapering family in mind. A wet bag snaps into the interior, keeping the opening at the top to make tossing a soiled diaper in easy. When you get home, remove it from the bag and put it straight into the wash. Contents will agitate out during the wash cycle.