Stock Up On Burp Cloths
Burp cloths can come in handy for so many more occasions than your baby's post-nursing spit-up. Stock up on burp cloths… here's why.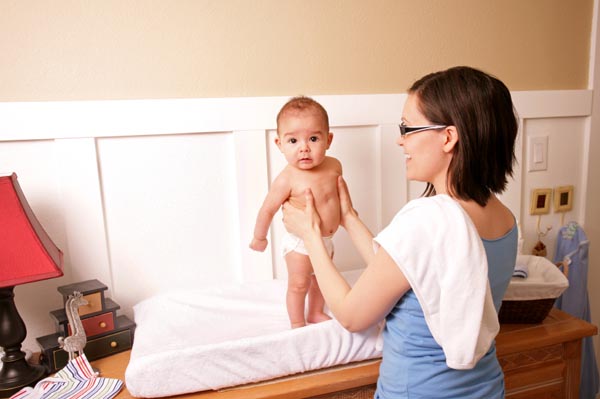 I'll be real honest, here, Moms. I had no idea what many baby items were when I received them at my baby shower. Among them: burp cloths, a nursing cover and pee-pee tee-pees. Don't even get me started on that last one. I was pretty disappointed when I received a package of what looked to be dishrags, but I soon came to discover the multitude of uses for these simple little cloths – even long after I stopped wearing one as a new mom sash over my shoulder.
Miniature diaper changer
If you're in a pinch and you don't have a diaper pad available, lay a burp cloth under baby's bottom to do the dirty duty. If the burp cloth gets soiled/stained, it's easier to clean (or simply get rid of) than, say, baby's favorite chenille blankie or your (non-mom) best friend's suede sofa.
Burp cloth bibs
Instead of using bibs with Velcro – that my babies would easily rip off and toss to the ground – secure a burp cloth (loosely!) around baby's neck with a large safety pin or clothes pin.
Cleaning cloths
There is something about the burp cloth's soft and lint-free fabric that makes it an ideal material for cleaning my TV, computer screen, picture frames, wood furniture and more.
Towel turban
Wrapping a large towel around my head after a shower gets not only cumbersome but rather heavy… and hot. Enter my beloved burpie. I twist up my wet hair in a loose bun and secure a burp cloth around it with a hair clip. It soaks up extra wetness from my hair while keeping it up off my neck and away from my face while I do my make-up.
Memory quilt
Burp cloths aren't what they used to be -- they are darling little memories in a perfect fold-up little package. By the time I had my second child, I received frilly burpies, ones with my daughter's name embroidered on them and ones with cute sayings like "I need a spa day" – this happens to be my daughter's favorite. So how can I part with them? I won't. I've tucked them away so I can one day sew them all together along with the tatters of old blankies into one big quilt of loving memories.
More great baby stuff
Ergobaby's amazing baby carriers
First Friends: A pacifier attached to a plush toy
Innovative, new products for your pregnancy or baby