New, Innovative Bottles Close To Nature
If your baby is breastfed, you may worry about introducing a bottle to him. Worry no more -- Comotomo bottles have an innovative design that he's sure to love.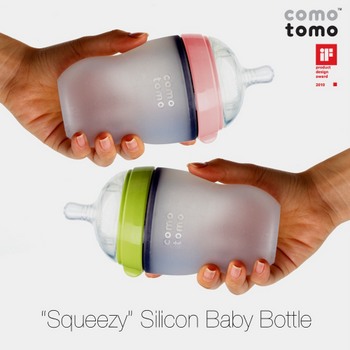 If you are heading back to work after maternity leave, or are planning outings that involve someone else feeding your baby, finding an excellent bottle for your breastfed infant is likely on top of your priority list. Nipple confusion is a worry of many new moms, and you'll want to search for a bottle that makes transitioning from the breast to bottle easy and seamless. The good news is that there may just be the perfect bottle for your little one from Comotomo.
Soft and squeezable
Comotomo bottles are unique because the whole bottle is soft and squeezable. As any mother of a breastfed infant can attest, babies love to play with and squeeze what is feeding them, mom's breast no exception. This makes the bottle more pleasant for baby to feel, as well as whoever is feeding her, which makes the experience mutually beneficial.
The bottles are non-toxic and BPA free, and they are also constructed of silicone. Silicone is awesome because it doesn't need replaced like a traditional baby bottle, as the material won't crack or scratch -- this eliminates the risk of bacterial growth. And happily, they are dishwasher safe and easy to clean.
Features
Soft, silicone nipple with a natural, skin-like feel
Slow-flow nipple for a gentle feeding and breathing pace
Squeezable, soft bottle -- more like mom
Anti-colic vents to help baby get more milk and less air
Options
The Comotomo bottle comes in two sweet colors -- soft pink or green -- and two different sizes. The smaller bottle is 150 ml and retails for $16, while the larger is 250 ml and retails for $17.
Contest ends July 14, 2012
More on baby bottles
Teaching your breastfed baby to take a bottle
5 bottle feeding tips for dads
How to bottle feed a baby