Creating Baby'S Sanctuary
Your baby's nursery is the place she'll be spending time lots of time sleeping, playing and changing for the next several years. So you'll want to create a space that is just right for her. Check out our tips to creating a unique and practical nursery for your baby.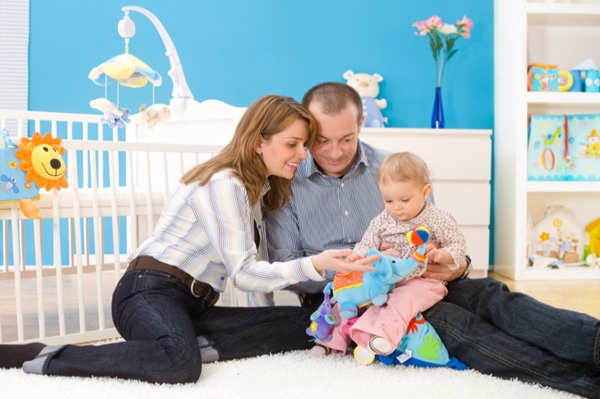 Think outside the color wheel
You don't have to go with blue for a boy, pink for a girl or the green-yellow combo if you're having delivery "surprise!" Forget pastels and try bold color combinations indicative of, say, your fave sports team (if you're expecting a boy) or a subtly sophisticated yet soft brown-violet combination for a girl.
Pick a long-lasting theme
Tiny ducks and baby bunnies are darling for infants. But what about a two year old? Three year old? When selecting a theme for baby's nursery, remember that he won't be a baby for very long. Try to select a theme that is baby-friendly but also easy to modify as he gets older. Remember that when your baby gets older, he may develop an opinion about how he wants his room to look. Don't go overboard on a theme so you can incorporate your child's favorite things, too.
Nursery essentials
Your baby's room will need a safe crib, a dresser for clothing, soft rug or carpet for tummy time and play, a sturdy changing table (one with lots of shelves/drawers for diapers, wipes, diaper rash ointment, etc.), and a diaper pail to stash those stinky diapers. A rocking chair or cozy glider is ideal for soothing baby at nap and bedtime.
Monitor
Set up a monitor in your baby's nursery that focuses on baby's sleep spot. Make sure the base is close enough to baby's crib that you have a good visual on baby as he sleeps but not close enough that he could grab the cord or accidentally get tangled in it.
Nightlight
Don't forget a source of subtle light to comfort baby in case she wakes in the night. Whether you choose a cute night light or "glowing" stuffed animals, make sure baby has a bit of light to break through the darkness of the night. This will help you, too, as you stumble to reach baby when she needs to nurse or change in the night.
More on decorating baby's nursery
Customized nursery checklist

Jazz up boring white walls with adorable wall decals
Creating a shared space for your child and the new baby