Trays May Come Loose
Check your convertible high chair -- if it's an Evenflo, it may be one that is involved in this recall. Read on to get the info.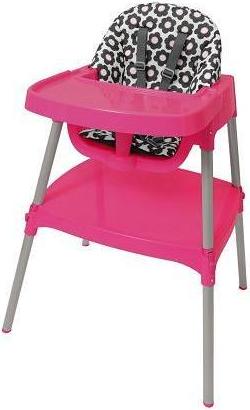 Around 35,000 Evenflo convertible high chairs have been voluntarily recalled by the CPSC and Evenflo due to a problem with the trays that attach to the high chair, which creates a fall hazard.
Product Description: This recall involves approximately 35,000 high chairs that convert from a high chair to a toddler-sized table and chair. The model number is located on a label on a lower part of the chair's legs.
The three recalled models are:
Dottie Lime with a model number of 29111259
Dottie Rose with a model number of 29111271
Marianna with a model number of 29111234
Where/when it was sold: These items were sold nationwide at Toys "R" Us and Walmart, in addition to online through walmart.com and wayfair.com between December 2011 and June 2012 for around $40.
Reason for recall: The tray that attaches to the high chair can unexpectedly disengage and an unrestrained child can fall. The CPSC has received 18 reports of trays detaching, including eight children who fell and suffered bumps or bruises.
What you need to do: Stop using the recalled high chair immediately. Contact Evenflo for a replacement tray that comes with installation and usage instructions.
Company information: You can contact Evenflo at (800) 233-5921 between 8 a.m. through 5 p.m. ET Monday through Friday, or visit their website at http://safety.evenflo.com.
More recalls
Recall: Safety 1st cabinet and toilet locks
Recall: Tots in Mind crib tents
Recall: Kolcraft Bassinets
Image credit: USCPSC